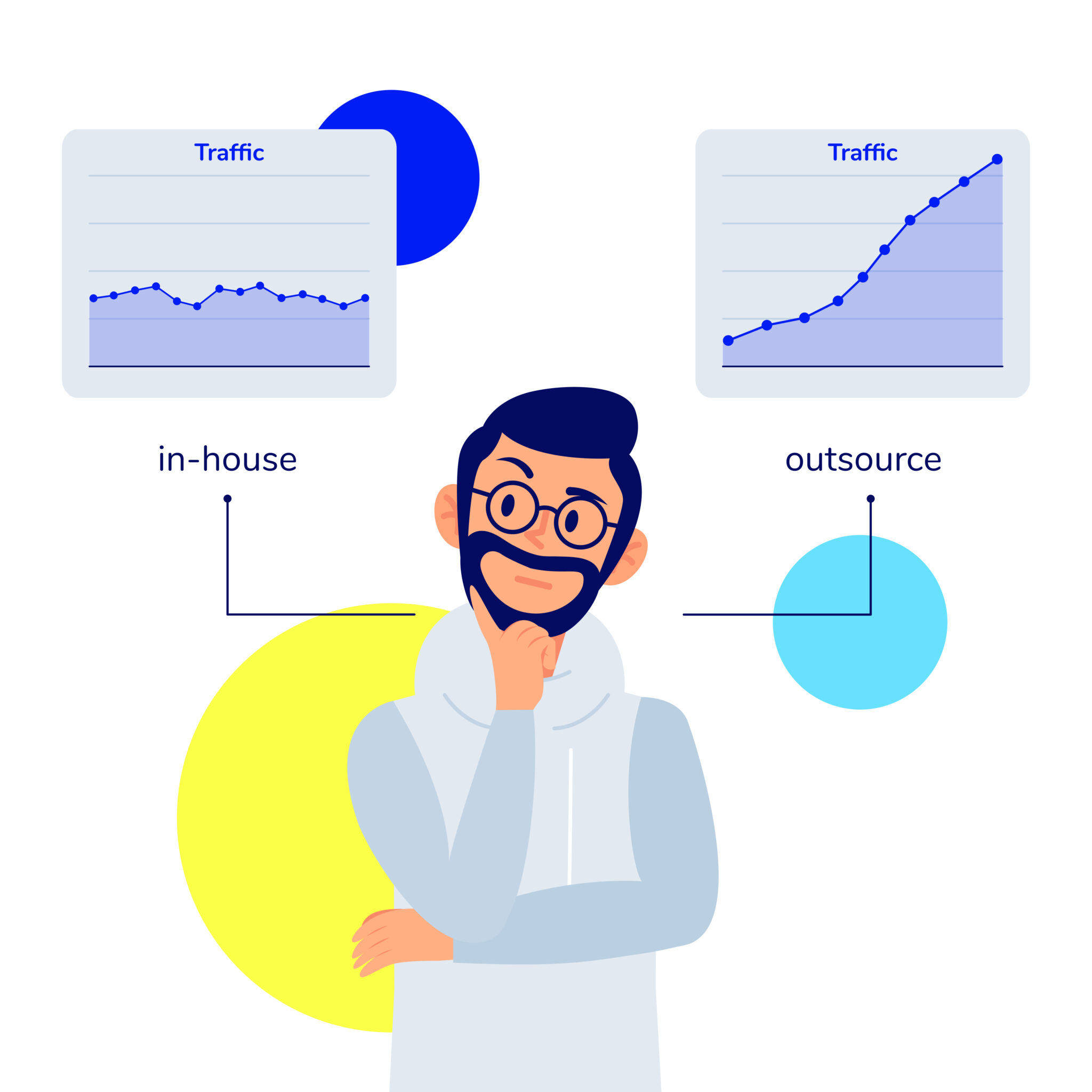 Working as marketers in the SaaS industry, we realized how challenging it is to scale high-quality and niche-relevant link building in-house. Companies might lack enough knowledge or resources to do that efficiently.
At the same time, outsourcing link building to an SEO agency or a freelancer can become a nightmare if you do not know how to evaluate these services.
This article explains when to outsource link-building services, the difference between hiring in-house specialists, and how to evaluate vendors so as not to be afraid of Google penalties or getting useless backlinks.
Do you need link building?
Link building is undoubtedly one of the most important factors in determining an online visibility in the search engine, confirmed by Google in 2016. But we already know this.
A fair question to ask yourself is whether it makes sense to invest resources actively in link-building in the first place. A simple exercise is to evaluate whether your website can target keywords with commercial intent. In SaaS business, ideal candidates are product, feature, or service pages. In our experience, not being able to detect the right keywords that will bring in sales is one of the biggest mistakes that companies make, which leads to failure and disappointment in SEO.
If you potentially have pages  able to convert organic traffic into leads, it's good to start thinking about investing in link building.
Of course, you can invest money into informational content, but you should be mindful of this strategy as customers rarely convert from blog posts directly.
When do you need to outsource link building?
Outsourcing SEO  is beneficial to companies as they can focus on customer conversions, product improvements, and new ideas. But when is the right moment to find a partner for that?
1. You have a product-market fit.
SEO takes 6-12 months to kick in and deliver valuable business results. When you are a Startup, you lack time, as your survival sometimes depends on a few months. There are much better marketing channels that SaaS companies might use to test and get instant feedback from potential clients.
The most popular ones are Facebook and Google ads. They will stream paid traffic to your landing pages as soon as you set up the marketing campaign.
2. You have a solid SEO strategy.
As mentioned above, your website should target keywords with commercial intent, as this will turn your traffic into sales. However, if you want to rank such keywords, you should establish topical authority. It is done by creating high-quality content covering the topic from various angles sometimes also known as content cluster.
For example, if you want to rank the commercial keyword: "chatbot software", you should write articles like
What is a chatbot
Types of chatbots
How do chatbots work
Benefits of chatbots
Best chatbots
And depending on your topic and niche it might be dozens of articles.
3. Traffic has enough commercial potential
You must consider how much traffic you can get for the targeted keywords.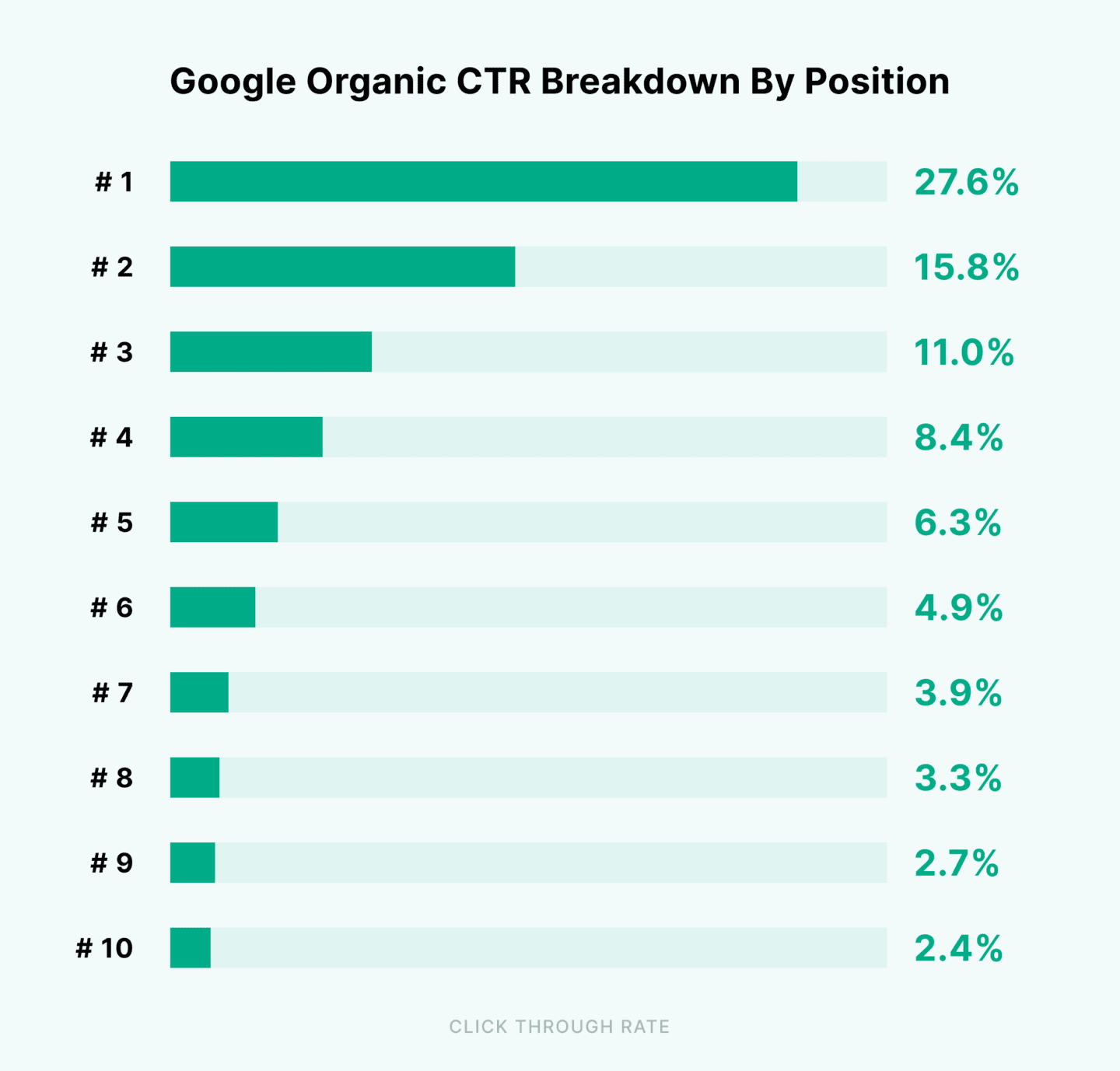 Depending on your position in the search engine, the traffic you acquire significantly depends on the position. As seen in the graph, position number one, on average, will get 27.6% of all the search queries for a specific keyword. In contrast, position number ten gets only 2.4%.
Google ads keyword planner estimates the average number of search volumes for a keyword and its close variations. As shown in the example, custom chatbot gets 320 average monthly searches per month.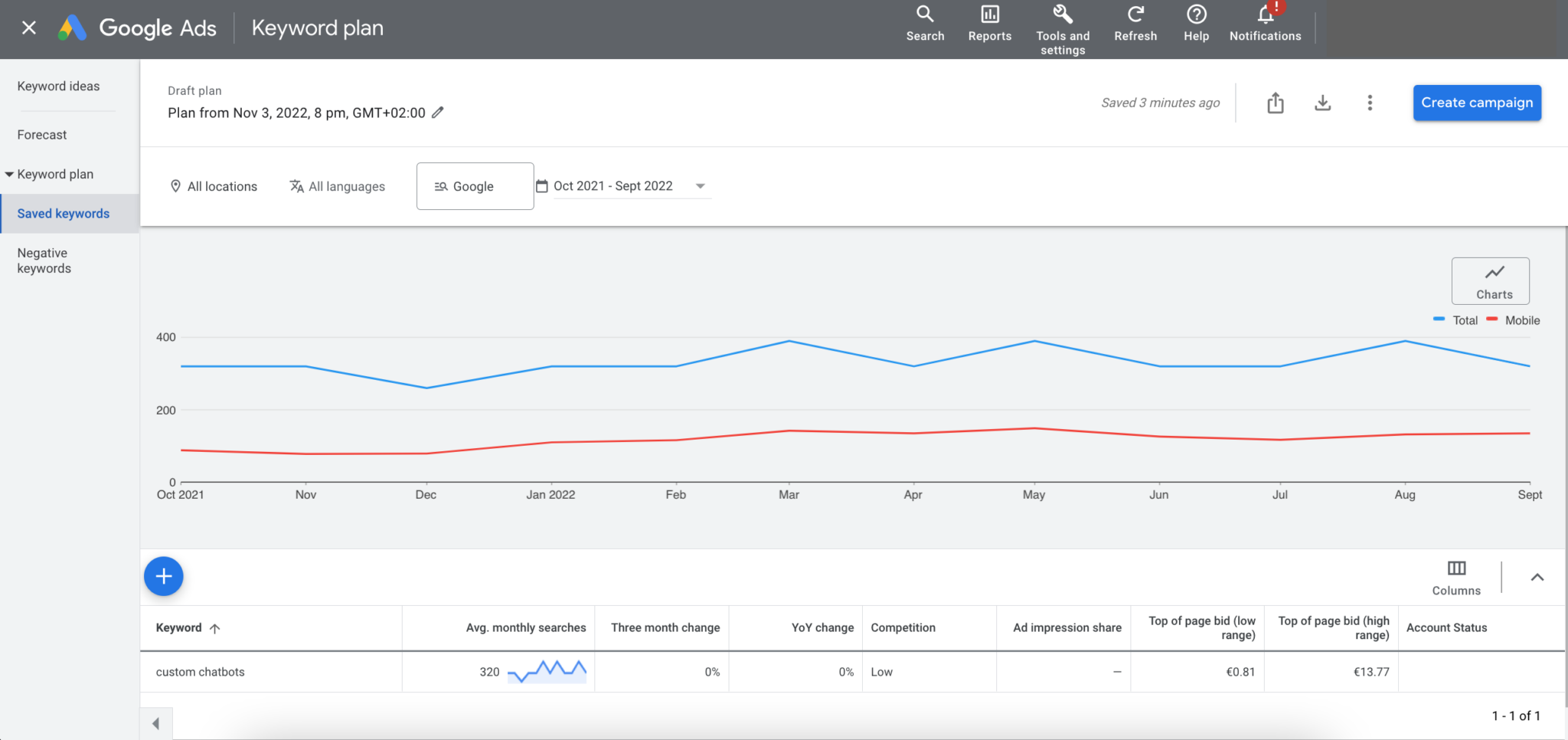 So a page ranking position five in Google with a 6.3% click-through rate (CTR) on average would get an estimates 20 visits only for this query.
However, that is not all. Pages do not rank for one keyword only, and tools like Ahrefs can determine overall traffic estimates.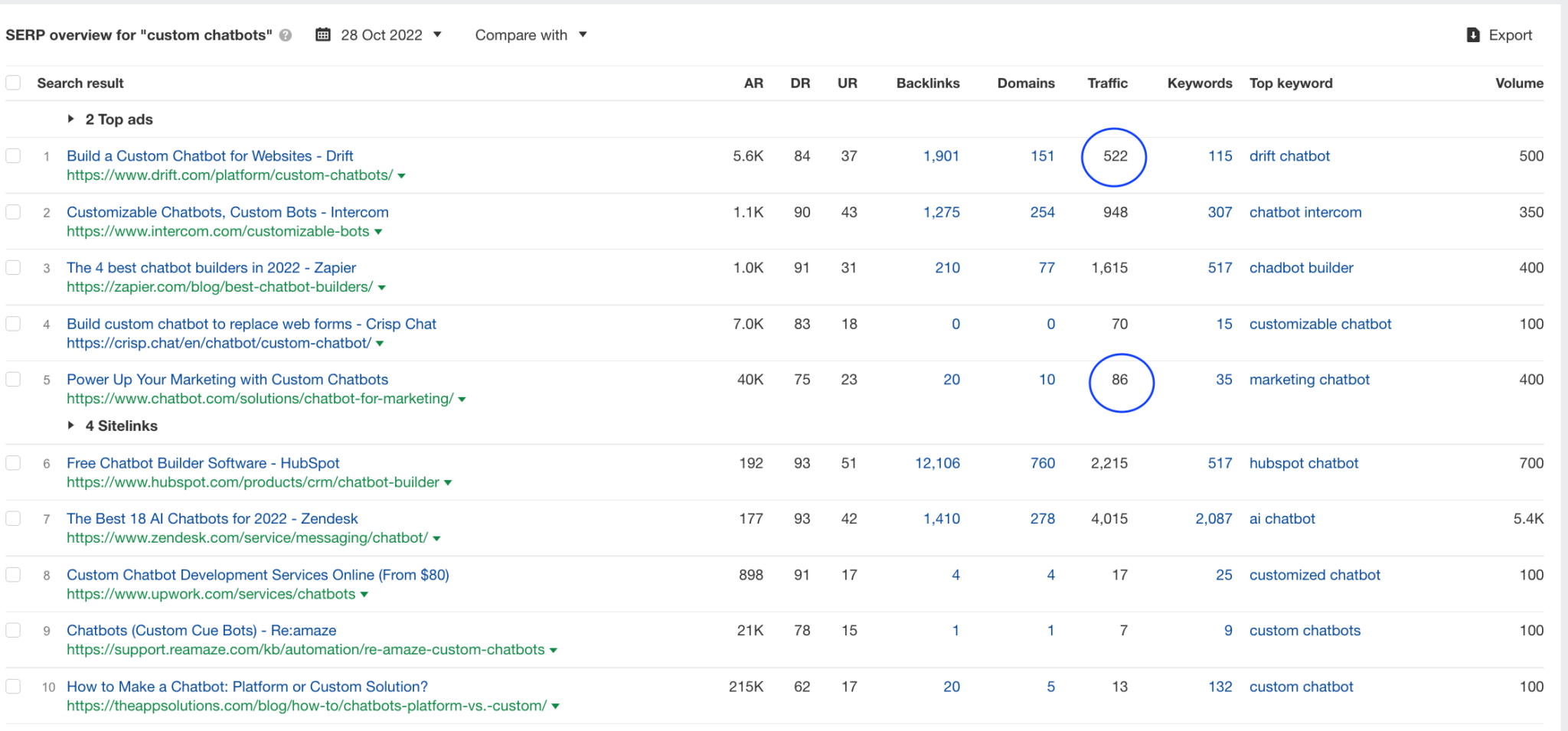 The website that ranks number one gets 522 visits per month and number five, 86 organic visits per month. Depending on your conversion rates, business model, and sales cycle length, you can potentially have several paid customers per month from one page.
Of course, we simplify, as there might be numerous SEO strategies and traffic monetization tactics, for instance, Zapier used an integration with other tools pages(e.g., Google sheet integrations) as the main strategy for their SEO.
If you need professional SEO help, book a meeting.
4. You are lagging behind competitors' domain authority
A principal factor to consider is your domain rating (DR). Domain rating shows the strength of a website's backlinks profile. Why is this critical?
When analyzing the competition for the keywords you want to rank for, you need to consider the average level of DR for the top ten ranking websites.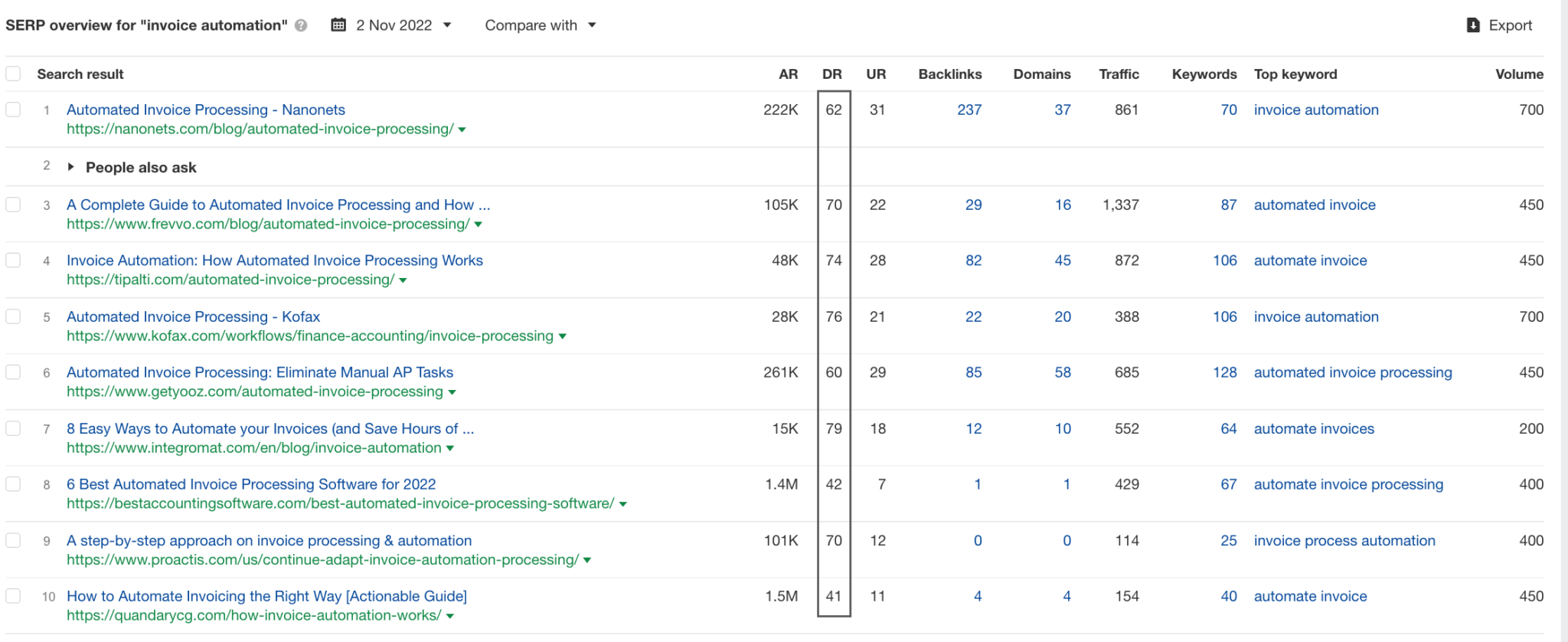 Next time you plan content topics, consider that your domain ranking determines, in most cases, the level of keywords you can tackle. So if you don't see it in the list of top 10 competitors' domains similar to your domain ranking, this keyword might be too early for you. But of course, every rule has exceptions, and this is a separate topic.
P.S if you want to check your domain ranking, check it here for free.
5. You have low-hanging fruits that require some extra push
Sometimes you have good content that matches the search intent and ranks in the position from 6-15 in the search engine. You have tried optimizing it with on-page SEO and added internal links. If you feel this content is valuable (e.g., it has the potential to bring more customers), it might be a good idea to boost the backlink profile for this page (but keep in mind point 4).
To find such opportunities, use Site explorer. Type your domain name, and in the new window, navigate to the "organic keywords" tab on the left.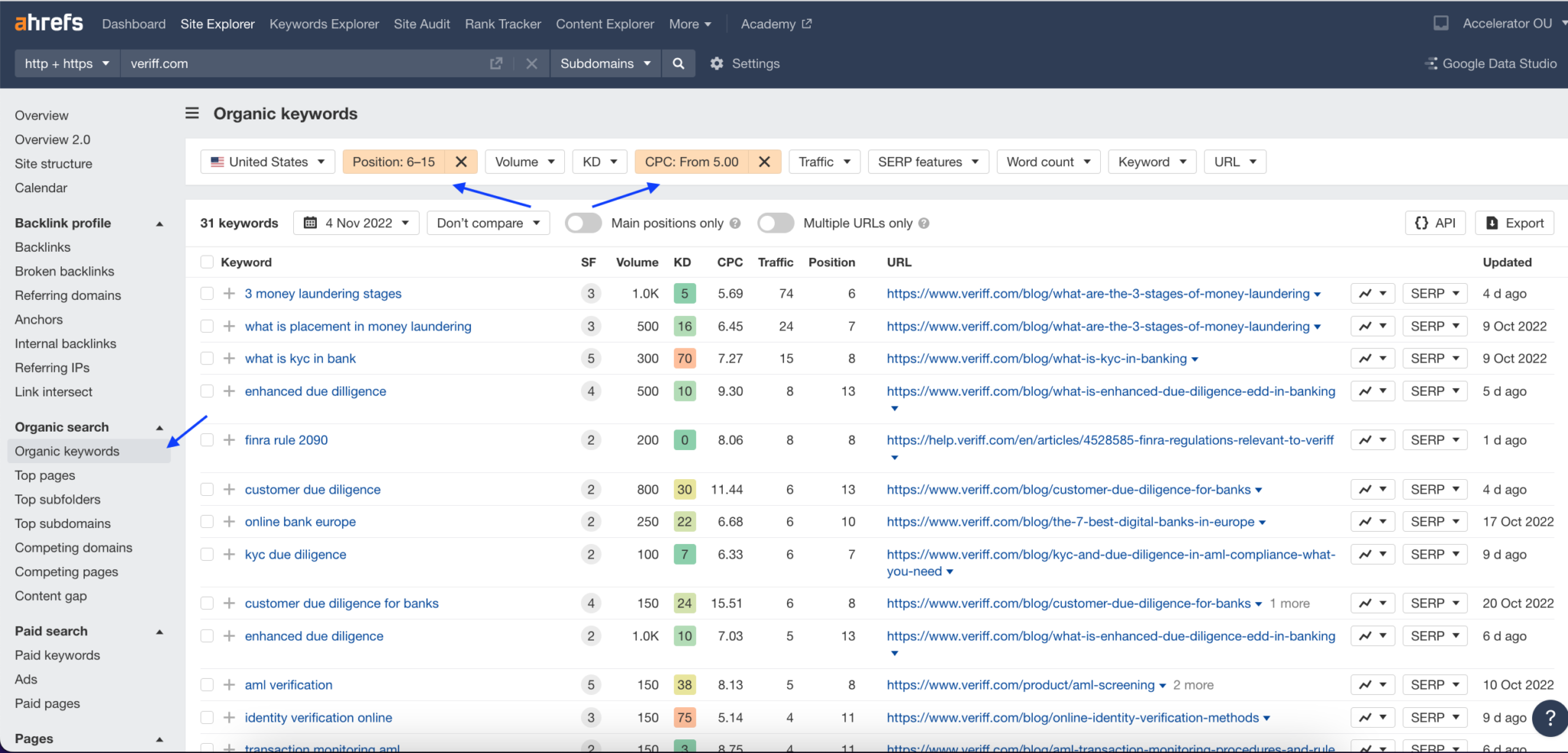 Now set up filters to show positions 6-15 and use additional filters like keyword volume and cost per click (CPC) to narrow down the list to make it actionable. Play with the setting and see what works best for you.
6. You do not have enough resources in-house
Sometimes your strategy requires an extra push at the beginning to catch up with the domain ranking of your competitors. Doing this internally might be a challenge as this requires having a full-time SEO outreach specialist. Depending on your niche, this might be a temporary role (at least full-time), and not everyone would agree to join the company for only 6-12 months.
Besides, it  requires purchasing expensive software and gaining knowledge for proper managerial control over the processes.
The best strategy is to have an in-house SEO specialist who deals with the On-page SEO and helps with the content and an outsourced link-building agency that scales your capabilities when needed.
7.  You need to scale fast
One main reason why big companies outsource their link-building is that they need to scale and do that fast. Niche-focused startups offer specific software and start outranking some of the big brands that offer a variety of solutions. Niche competition forces the latter to be more aggressive in link-building as they expect fast results.
One example could be Adobe, that at some point started losing competition to Figma and similar solutions.
In-house link-building vs outsourced link building services
There are pros and cons of having either an in-house link-building team or an outsourced partner.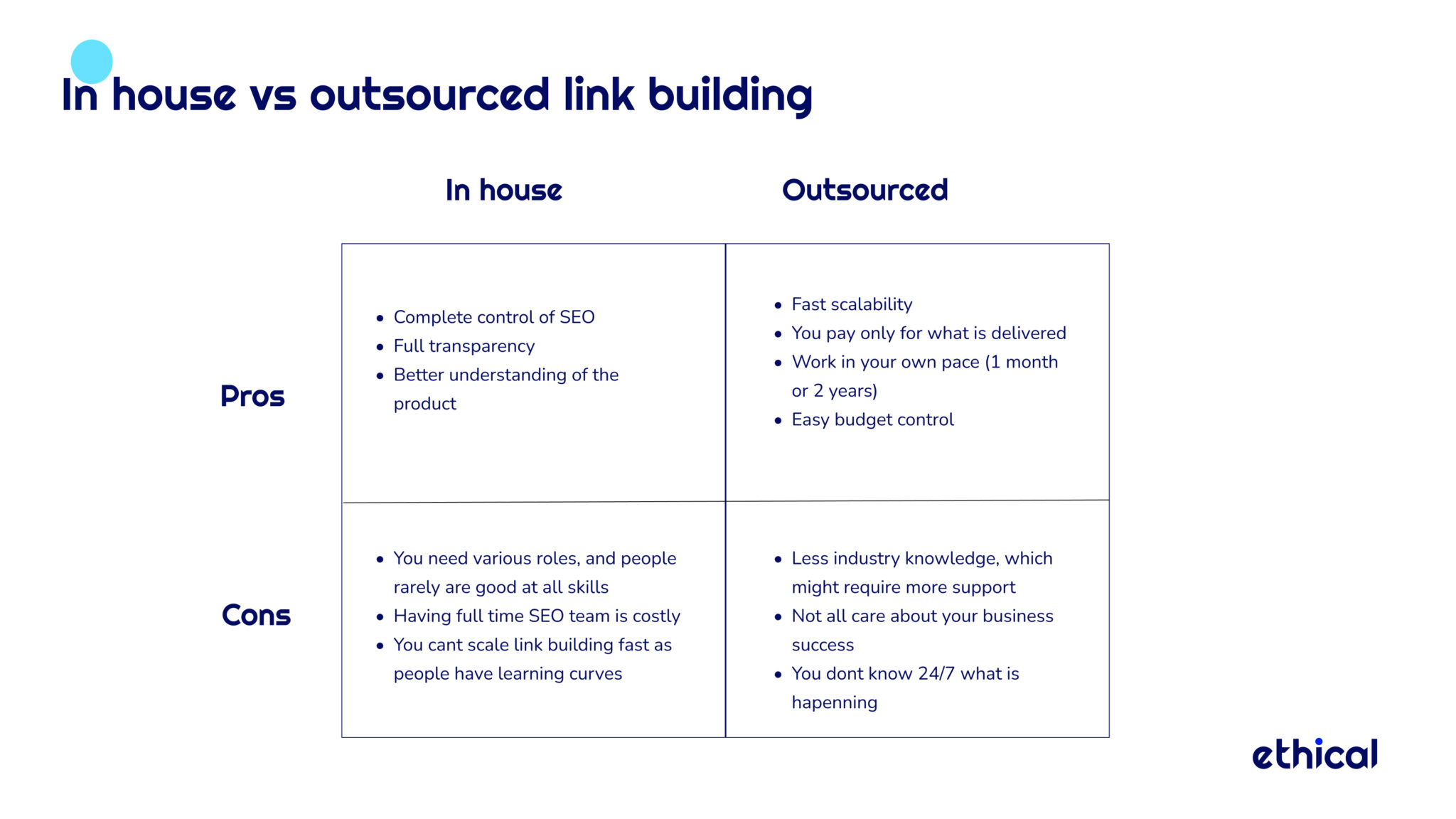 The biggest advantage of an in-house team is a better understanding of a product and business vision in general. It will also provide a higher level of transparency. However, it is quite costly to have an SEO team. As reported, depending on your country, the salary of a serious senior-level SEO manager may vary significantly, reaching an average of 86 thousand per year in the US or 33 thousand in Spain. And don't forget to add expensive software, office space, and other labor expenses.
Outsourced link-building agencies provide much more flexibility. Depending on your priorities, you can work for a couple of months or several years.
You don't need to pay for the agency's working hours but for actual delivered work, which makes budgeting control much easier.
Steps you need to consider when outsourcing link-building
1. Define goals
Consider the way of having a clear idea of what you want to achieve. This might include improving your website's search engine rankings, increasing traffic to your website, increasing website authority or even building brand awareness.
Maybe link-building is not really what you're looking for in the first place.  

Maybe link building is too early for you or you might want to build content first.

If you need quick sales/results then paid ads are for you.
2. Do you know how to evaluate the quality of backlinks?

Not knowing how to evaluate the quality of backlinks might lead to overpaid services or, in a worst-case scenario, lead to Google penalties when you outsource link building. But we have you covered.

Here are the main criteria that  require your attention when evaluating outsourced link-building services
1. Domain Rating
Tools like Ahrefs or Semrush can evaluate domain ratings (DR) or the website's authority. It indicates the number of backlinks and the website's strength. Most vendors offer backlinks from websites with DR 30 and above.

However, DR is only one metric and not a guarantee of good-quality backlinks.
2. Organic Traffic
High-quality links generate at least 1000 organic visits per month. But, it doesnt guarantee anything.
3. Top pages
Oddly, some websites exist to sell spammy links. Also known as link farms, they might have high DR and organic traffic, but when you take a closer look, you might notice that they rank for weird keywords that make no sense.
4. Social media

One simple check is to look for social media presence. It would be best to get backlinks from real organizations (that exist not for selling backlinks),and Linkedin can easily show whether the company has real employees.
5. Number of categories

One of the signals of whether the website is a link farm that sells links is the number of categories the website has. If the website writes about 10+ various topics randomly (e.g., business, sports, love, psychology, etc.) it might be a no-go. A phenomenon referred to as Private blog networks (PBN).
Of course, various newspapers or magazines also introduce individual topics, but they use some business models, like Google AdSense, paid ads or affiliate links, to earn some money.
6. Decreasing traffic
It might be a no-go if the website significantly loses traffic. This might indicate that the site has been hit by Google penalties because of black hat SEO strategies or other search engine optimization issues.
7. The business model of the website
In most cases, websites exist for business purposes. If you see that organization is publishing content but doesn't have any business behind it (like selling services or products) and not using affiliate marketing links or Google ads, it is probably selling backlinks.

You should never buy backlinks from websites as this is against Google webmaster's guidelines.
8. Outgoing links
Check the latest articles and the outgoing links that the website was using. If you notice backlinks to casinos, CBD, or viagra, this is  extremely bad. This website is 99,9% selling backlinks.
9. Majestic Trust Flow/Citation flow ratio
One handy tool is Majestic, which analyses the backlink profile of the website. Citation flow indicates how many backlinks a website has, and trust flow indicates the quality of these backlinks.
One way of indicating the resource quality is by checking the ratio between Trust flow and Citation flow.  The Golden mean is 0.5 and above, but of course, this is just a relative measure, and off and on good websites may feature a lower number.
3. SEO takes Time
You shouldn't expect immediate results when outsourcing link-building campaigns. No one can say exactly how long it takes to rank in Google.
One research by Ahrefs concluded that only 5.7% of websites rank in Google's top 10 search results in the first year after publishing the page. And if you are lucky to be in this group, normally , you will get to the Google sweet spot within 61-182 days.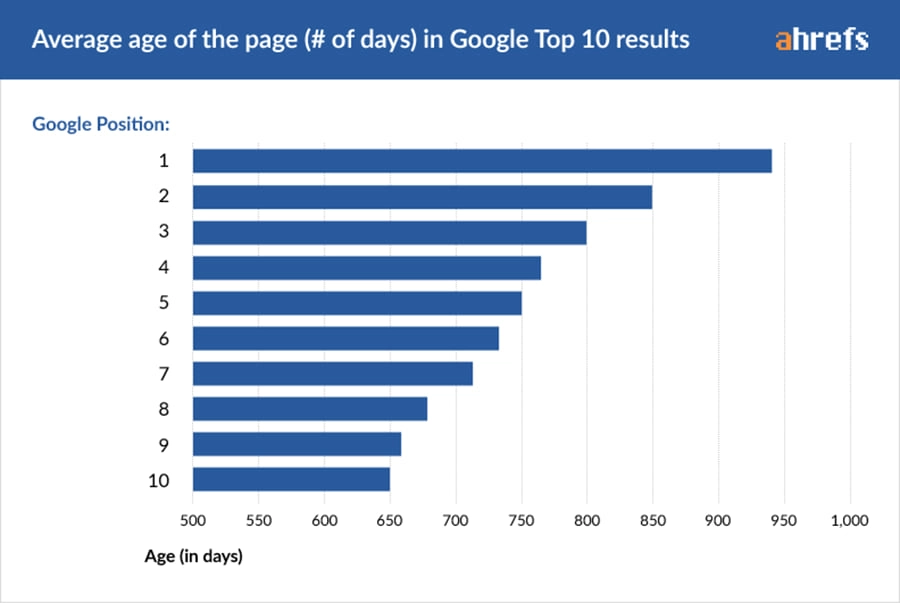 However, as demonstrated in the same research, the average age of the page in Google's top results exceeds 650 days. No wonder, you need patience when doing SEO and a good link building strategy.
4. Budget
The link-building process involves various activities, from prospecting opportunities and validating the right contacts to personalized outreach campaigns and negotiations. Depending on the link-building service, the budgeting significantly varies.

1) The cheapest option is to hire a freelance link builder from Fiverr. Have a look at the typical package.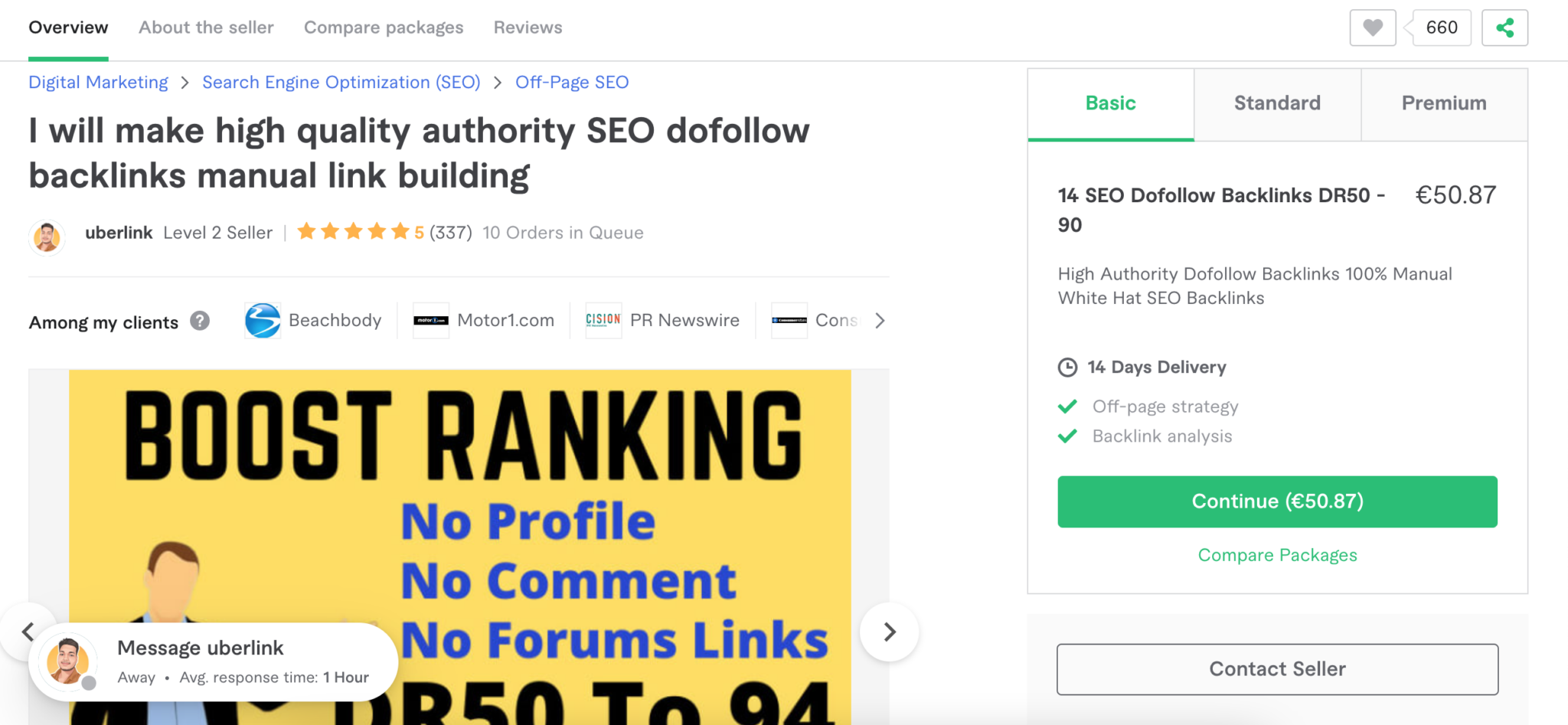 The first impression – wow, the price is so low! Indeed, but in most cases, what you get is poor-quality spammy links that do more harm than benefit.
So if you do not know how to evaluate the quality of the backlinks and do not want to get Google penalties potentially, avoid such offers. This is just the worst option.

2) Typical SEO agency
A regular link-building agency offers to publish guest posts using their "network" of websites. Here is an example of a typical link building agency.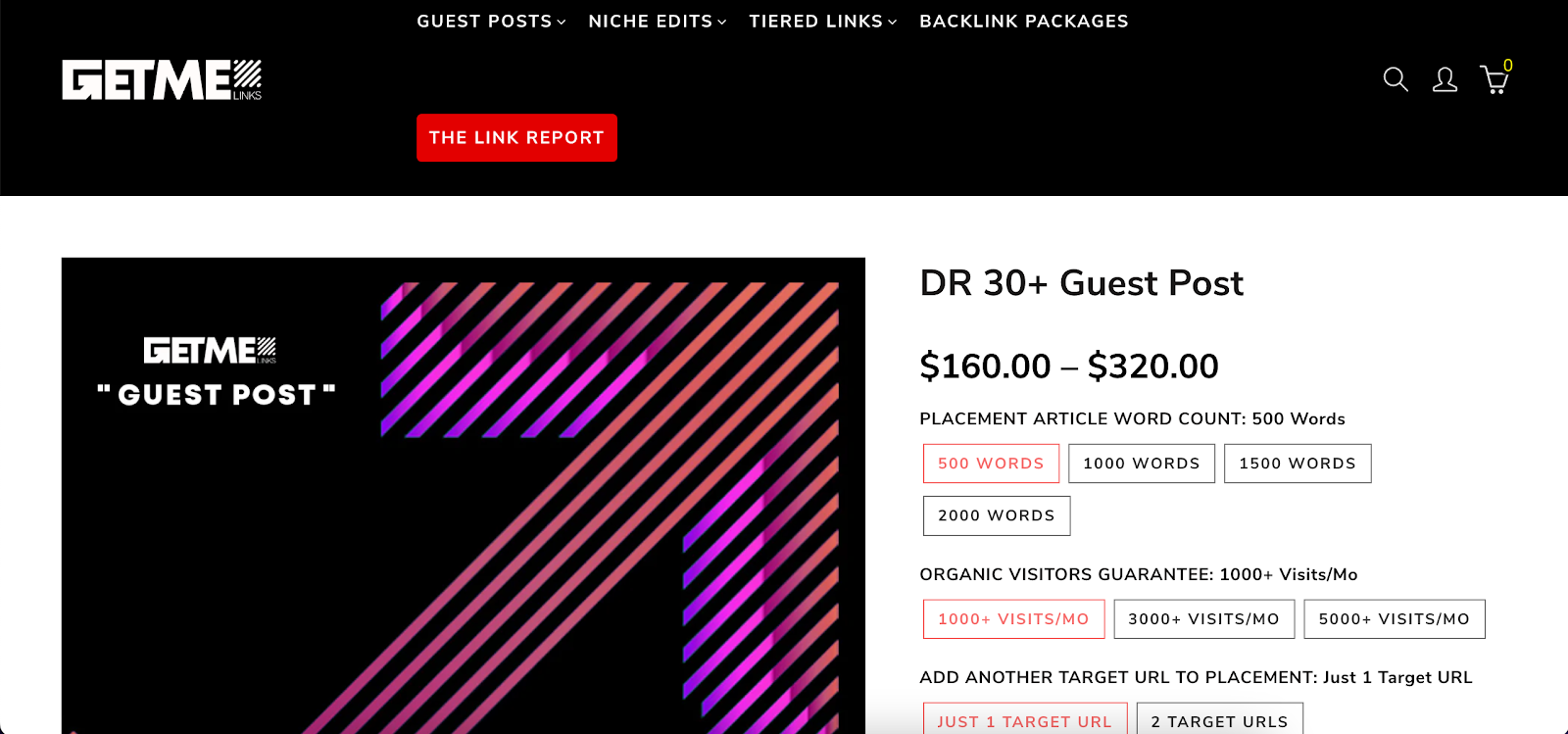 But do you know how it works in 90% cases? It is quite simple. They outreach most of the websites in their network and ask for a price for posting a guest article on the website. Working in my previous company as a CMO, we received dozens of such emails. Here is an example: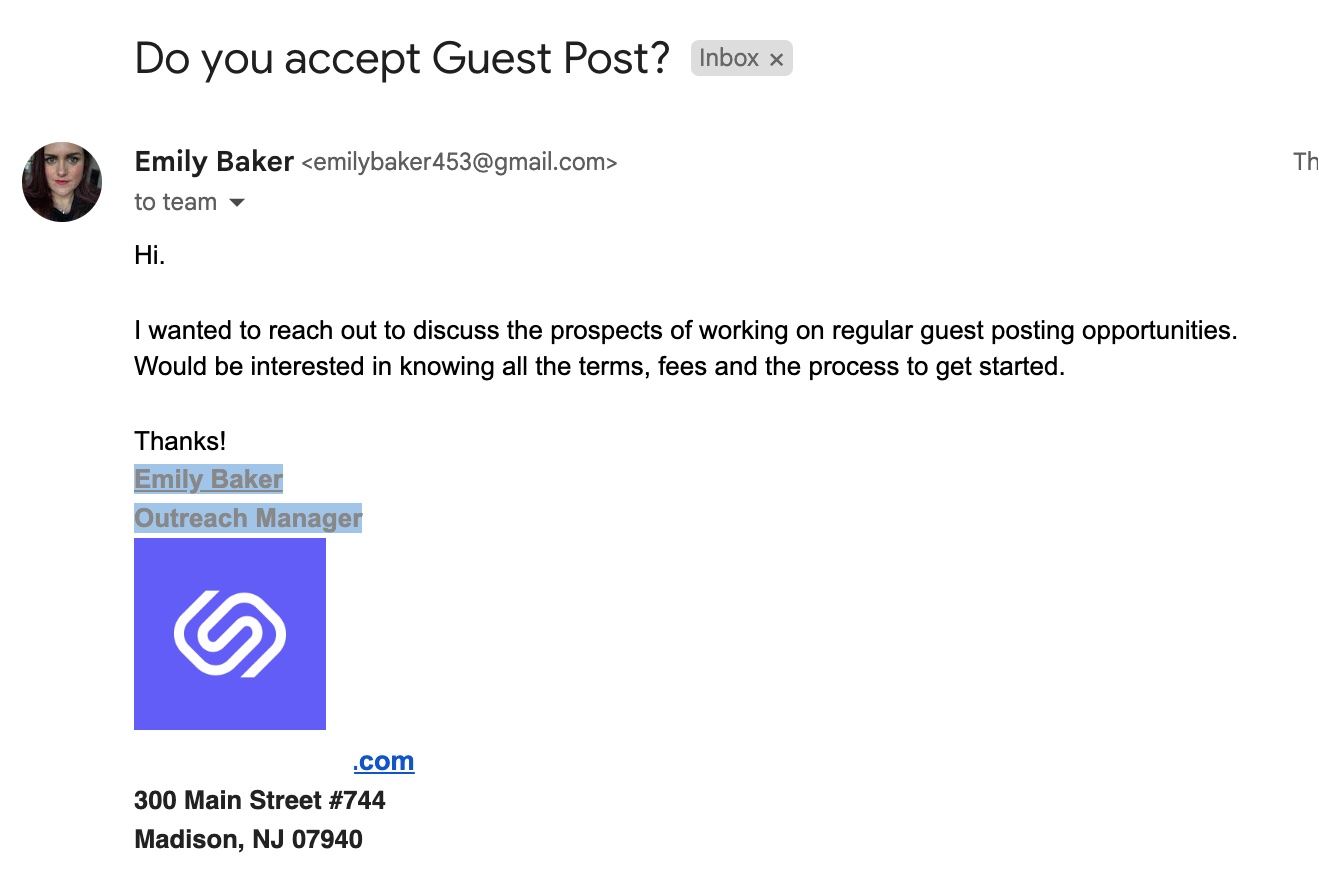 Paying someone to get you a backlink on the website (without sponsored tag) is unethical and against Google webmaster guidelines, which is considered link spam and might get you in serious trouble, like disappearing from Google.
How to evaluate outsourced link-building agency
1. Well-established processes
A well-established link-building agency has standard process operations (SOPs) defined to regulate every aspect of the link-building and working process. It is crucially important as this has a direct impact on the success of the campaign.
When everyone knows what, how, and when to do, it simply makes the process more efficient and transparent. For instance,  Ethical has documented every step of its business process and made explanatory videos for employees and customers. It makes things much simpler.
Don't know  how to evaluatethe outcome ? Well, just ask your potential supplier a question regarding the process:
Could you describe your standard process operations?
2. Case studies from relevant organizations
"Better done than said."
You can evaluate the link-building expertise by checking what has been done for example using a case study. It is especially great when you can evaluate based on companies you have heard about. 
Does the agency have relevant case studies or track record?
Does the case study explain the problem and the outcome?
3. The proper goal setup
Most agencies practically don't care so much about your business's success. In most cases, the only thing they want is to sell you as many backlinks as possible. So how to know that your vendor is not among them?

Ask them about the goals of the campaign.

Why are we building links to this page?
How many backlinks and why?
4. Transparent reporting
Can you evaluate the results of outsourced work? Does the agency provide you with a detailed report of the gained backlinks?

Ask potential vendor for a sample report
5. Real testimonials
A good sign is verifying that a vendor has testimonials from real businesses and people. I am not speaking about commonly known website testimonials with an image, name and some text saying this is the best agency in the world 😀

Websites like G2, Capterra, and clutch bring more transparency. Check them out and see whether your vendor has reviews.
Another option is a video testimonial which also might be a good sign as long as you can verify people.
Check G2, Capterra or Clutch.
Types of outsourced link building services
There are various link building strategies typically offered by the marketing agencies, but let's mention the three most favored ones.
1. Editorial links
Niche edits, also known as contextual backlinks or editorial links are the strategy when the links to your content are inserted into the existing content.
Pros of editorial link:
It is fast in execution as the content is written and you need to outreach the responsible people.

You can get a link from already ranking content, with backlinks which is always good as it will pass the link juice.
Cons:
You don't have full control of the written text e.g. what text surrounds your anchor with the text

Link indexation sometimes takes more time.
2. Guest blogging
Guest posts is another type of a link building strategy that can increase the number of backlinks. This strategy is about finding a relevant to your topic website and writing an article on a specific topic.
NB! Two things to remember about guest blogging.
First is that a lot of link-building agencies simply create a network of websites (thousands) which accept guest posts for money. You should be really mindful in this case as you are not allowed to pay someone for a backlink according to Google webmaster guidelines.
Secondly, real organizations value quality of the content, especially when it comes to complicated topics like machine learning or software engineering. Don't rely on just writing a 300-word-long blog post as it will require dedication, a comprehensive content brief and 1000+ word-long articles.
Pros of guest posts
The content is fresh, which is good for link diversification

You have control over the content and the context

You create a reputable data source, which is beneficial for your brand.
Cons:
It takes extra resources to create a content

You might get a sketchy website opportunity that gets money for guest posts.

Takes time to publish a content depending on the publishers editorial calendar availability.
HARO links
Help a reporter (HARO) connects journalists with authority resources to get a professional opinion on various topics. You can reach out as far as getting links from the New York times, Washington post, or Wall Street Journal.
Typically agencies get requests from various publications and provide their expert comments on selected topics on behalf of you. These expert comments may be used by the journalist in their article, and may include a link back to the source's website. In this way, HARO is a valuable tool for building links to a website.
Pros of HARO links
You get backlinks from authority resources

HARO is a free platform, where anyone can register
Cons:
You usually get backlinks from generic news websites

You do not have control over the content the agency provides on behalf of you as HARO requires fast responses and only a small percentage will be accepted.
Final words and summary
Any company at some point might think about outsourcing link-building process to a partner as obviously, this helps to shift away a heavy lifting work. Here are the things you need to do aiming at a successful result:
Start with asking yourself whether you have the right content that targets commercial intent keywords.

Assess whether you have a Product-Market fit, as SEO strategy is a long-term play.

Check what is the gap between you and your competitors

Find a relevant partner who can help you scale the link building and beat your competitors

Develop a clear execution plan with goals together with your partner

Run monthly meetings with retrospective reports and adjust strategy

 

whenever there is a need.
And if you are looking for anyone to help with your link-building strategy, why not send us a request? We will build some ethical links for you.