You have this fantastic SaaS product that can save the universe from extinction. Sounds cool, right? But the problem is, people aren't finding it and THE TRUTH is, you need links to stand out from the others if you want to have search visibility!
Look at how some successful brands like Canva are doing it!
In November 2014, the brand started acquiring inbound links. As seen on the left illustration the number of unique referring domains reached 29, 994. This boosted the organic traffic to reach 3 950 596 unique visits per month in 2016, and gaining 98 million unique visits by 2022. 2386% Increase in traffic and organic keywords within the last 6 years!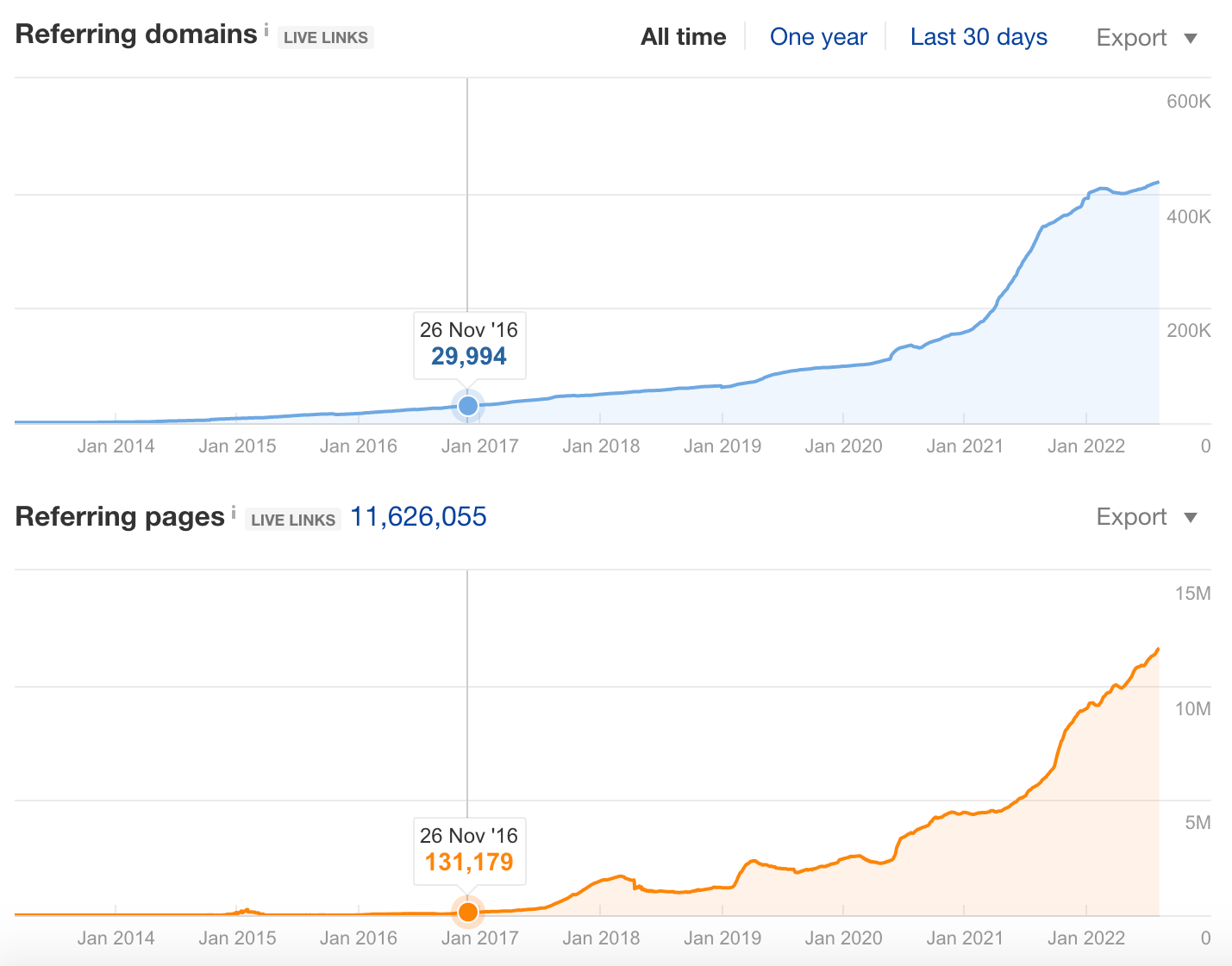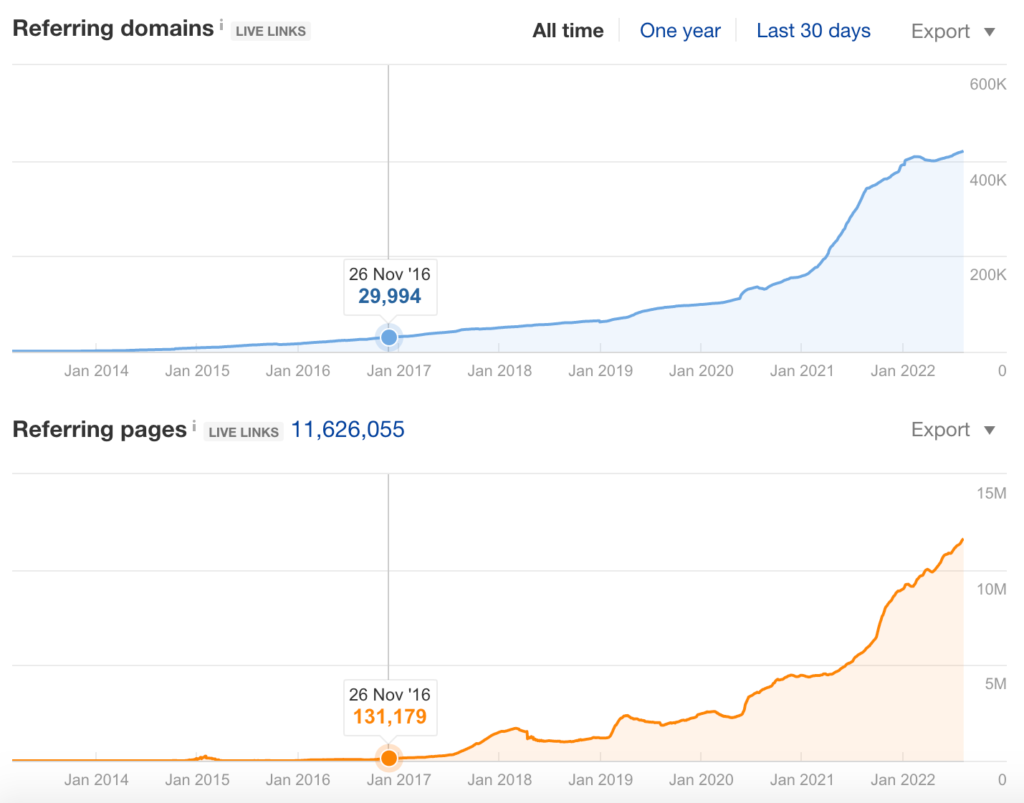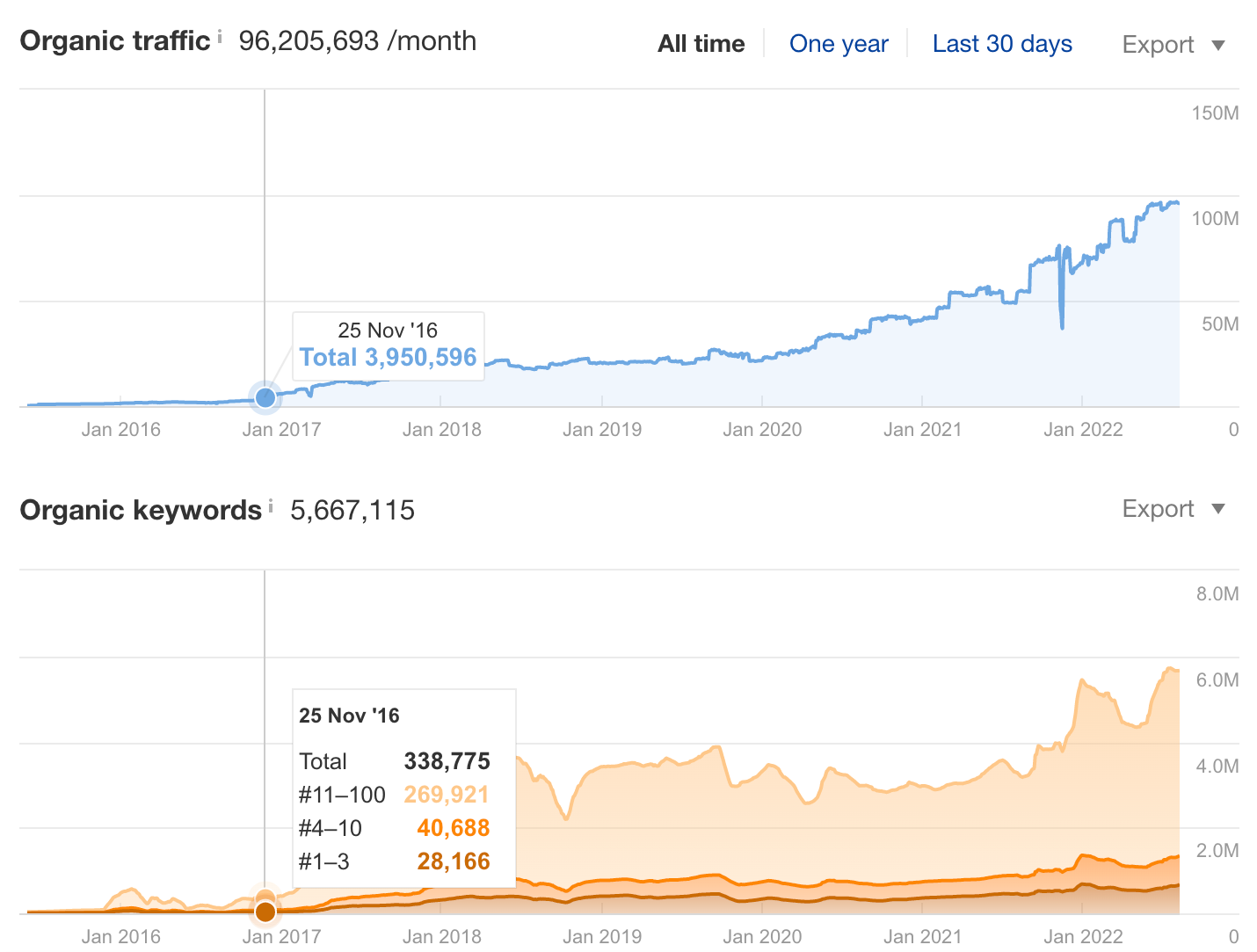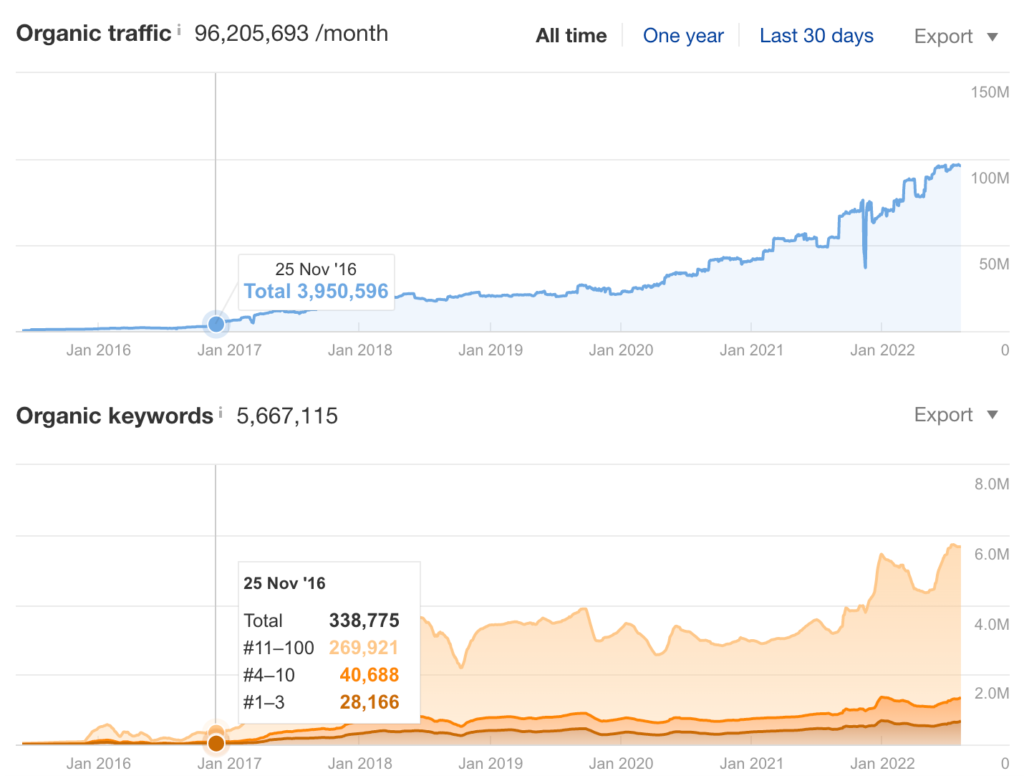 Coincidence? Not at all! According to a study by Brian Dean, pages with more backlinks rank higher than pages with lower backlinks. 
Still, many SaaS businesses are struggling to obtain backlinks from high authority sites, or they just don't know where to start, or maybe they don't have enough budget and resources. So, in this article, we willll cover the basics of building links to your SaaS website and up-to-date strategies that you can use to help you land high-quality backlinks. 
What topics are we going to cover?
In this guide we also included free outreach templates and pro tips
What makes a good backlink?
Back in 2012, before the Google Penguin update you could rank a site by just building massive amounts of link spam.

Today not all backlinks are created equal. One high quality backlink from an authority site like New York Times would weigh more than 100 low quality backlinks like forum spam.
Before building links, we must first define what makes a good backlink. Otherwise, you'll waste time building links that will not help your site climb up the rankings.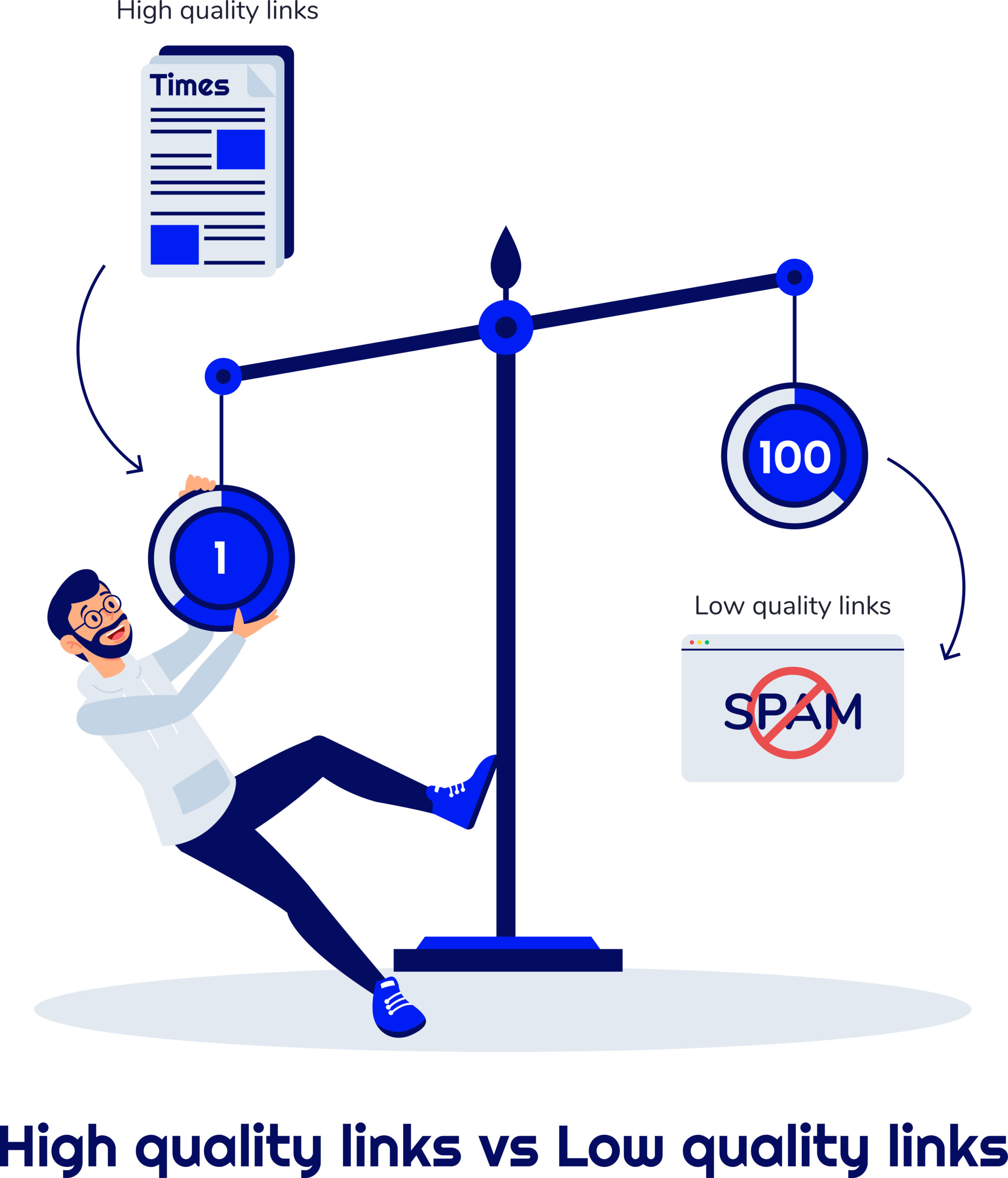 The top 3 attributes that make a good backlink are:
1. Topical relevance  
Topical relevance is a process used by search engines to determine a website's overall relevance to a topic or a search query. Getting backlinks from related sites in your industry can help build relevance. You don't want to be building links from a sports site if your topic is related to graphic design.
2. Domain Authority
The number of referring domains measures link authority. The number of referring domains pointing to a site is a way of telling Google that this site is good. Ideally, you want to build links to sites with a decent authority number. Tools like Ahrefs, Moz, and Semrush measure the site's authoritativeness. A good and safe practice for building links is starting with sites with a Domain ranking (DR) 30+ above.
3. Website Traffic
A site with a lot or at least a decent amount of organic traffic indicates that the site is good and ranks in various keyword search terms in Google. 
Why would you build a backlink to a site without traffic? Nobody is going to find it! Some sites have low traffic because they are terrible at marketing or simply Google doesn't see any value in the site. So stay away from these sites. 
Ideally, you need sites with at least 1000 monthly visitors depending on your industry's size. And check that the traffic is not significantly decreasing recently, as this might be a bad signal. 
Sites you want to avoid building links to: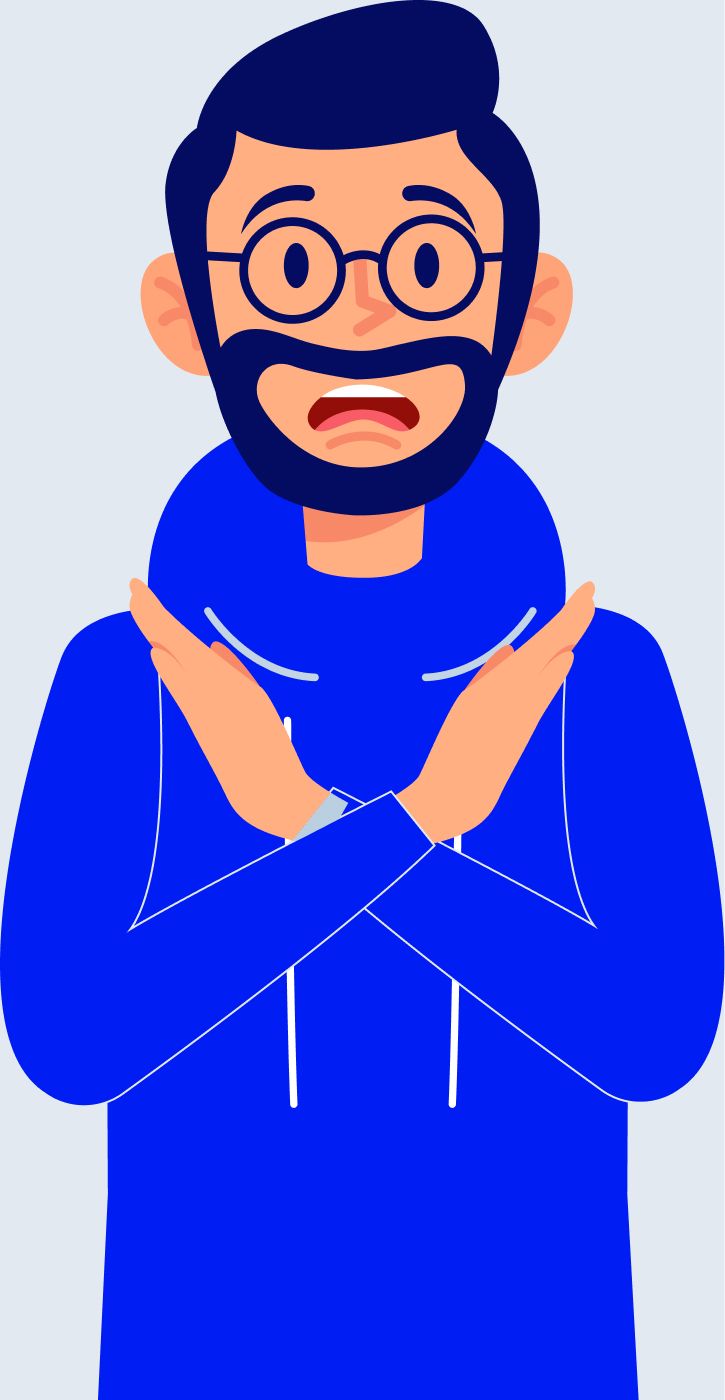 Sites purely made for SEO purposes only, like PBN (private blog network)

Adult and gambling sites

Link farms – sites with high outbound links are likely to link farms.

Links with lower than 0.5 Citation/Trust flow ratio (based on Majestic)*

Links to websites with outgoing links (links pointing to another website) to adult and gambling sites.
*Some company websites might have a lower ratio but could be considered a good backlink, so this should be taken reasonably.
Now that you know what makes good backlinks, you should determine which pages you should build links to. 
Choosing a page to build links to (Quick Wins)
Most SEO experts agree that it takes 4 – 12 months to see the first results from SEO. The result could be faster depending on the competition of the keywords you target.
But did you know there are workarounds strategies you can use to rank in less time just by utilizing your existing content?
Sheeshhhhh really? How?!
The idea is to find keywords from your existing pages that have the potential to rank higher in search engines. To do this you need to look for keywords that are already ranking in 6-15 positions.
Quick steps to find easy wins in SEO
1. Go to ahrefs site explorer and input your site url, make sure that the parameters are set to search for domain and subdomains (*domain/* with all its subdomains)

2.  Go to the organic keywords tab, filter by positions 6-15 and set the traffic volume to 1000 and export the result.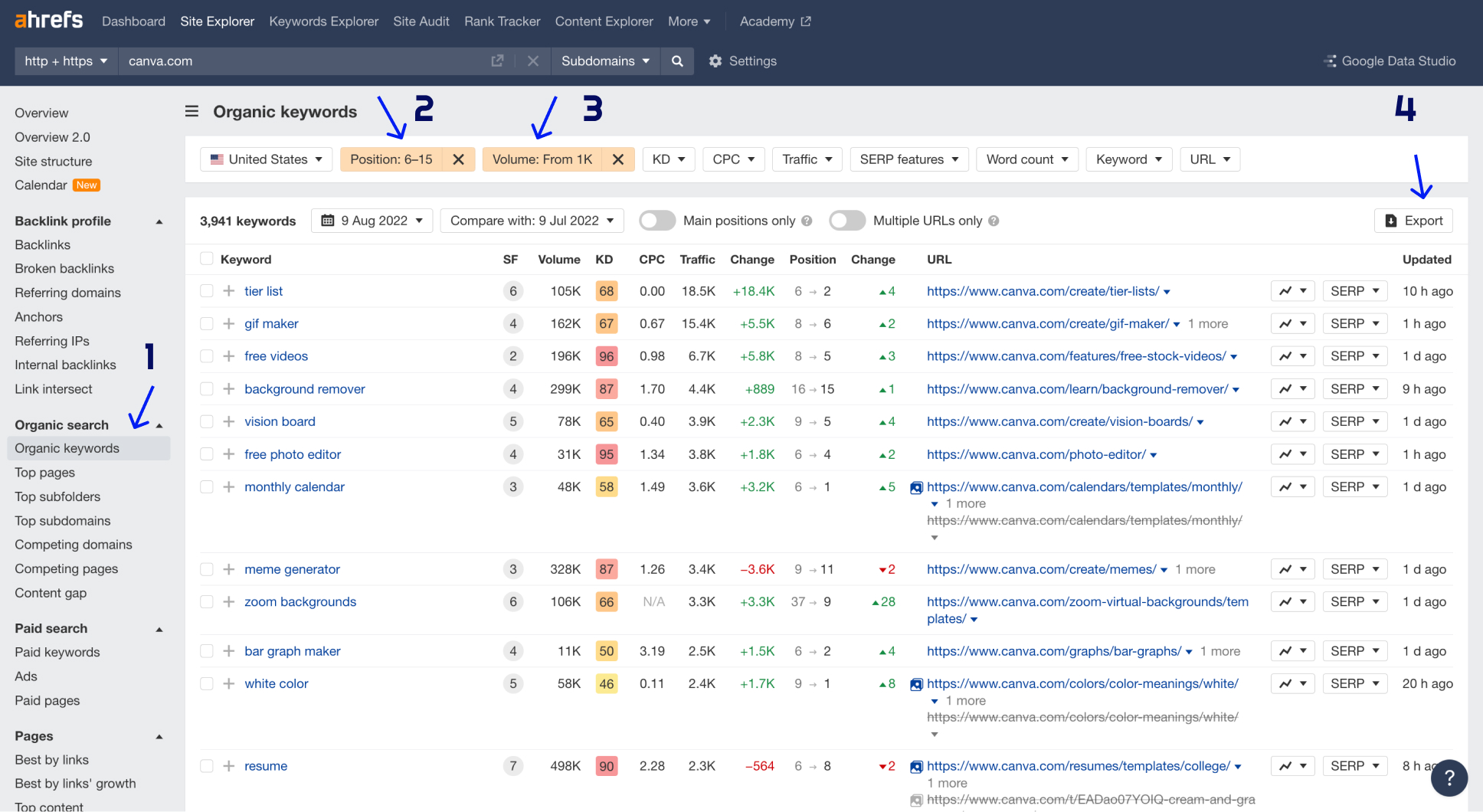 Now that you have the list of pages that have the potential to rank higher, the next step is to improve the page content structure. Here are a few key areas that you should optimize: 
Easy SEO fixes check list
Depending on your website's content management system, you can also try the Yoast plugin which suggests on-page SEO improvement for quick wins.
Once you have updated the content, don't wait for it to rank on its own. Instead, help the page climb up the rankings by boosting it by building high-quality links.
The next step is determining how many backlinks you should build for these pages.
How many backlinks do I need to build?
One of the most common questions we get asked from time to time is how many backlinks does it need to rank up or at least boost a page?
Knowing how many backlinks you need will give you an idea of how much it will cost to rank up for a particular keyword. To answer this question, you need to do a Backlink gap analysis. A backlink gap analysis compares links between you and your competing domains to see how your links will stack up against your competitors.
How to Calculate the link gap
First, you need to find and list down your top 5 competitors for your target keyword.
If you have Ahrefs go to keyword explorer and type your keyword


After submitting the keyword search, scroll down the next page until you get the top 10 for the desired keyword.
For each of your top competitors, you can click on the "Domains" column that shows how many unique domains are linking to the target page. 
Click on the number as shown by the arrow. Please note that in our example this number is accurate as of 30th of July, and we are writing this article on 10th of August, so the number of links on the next screenshot is slightly different (249).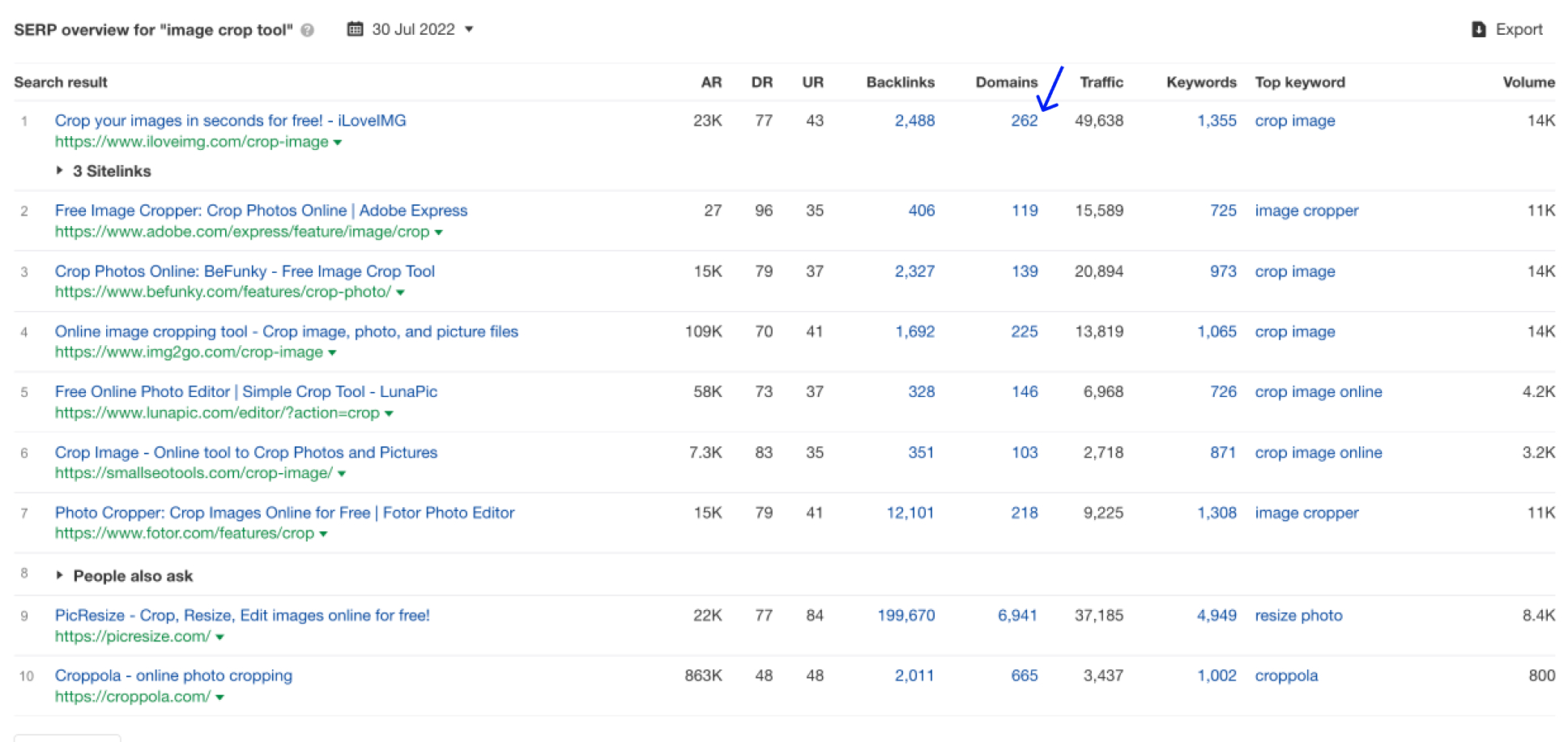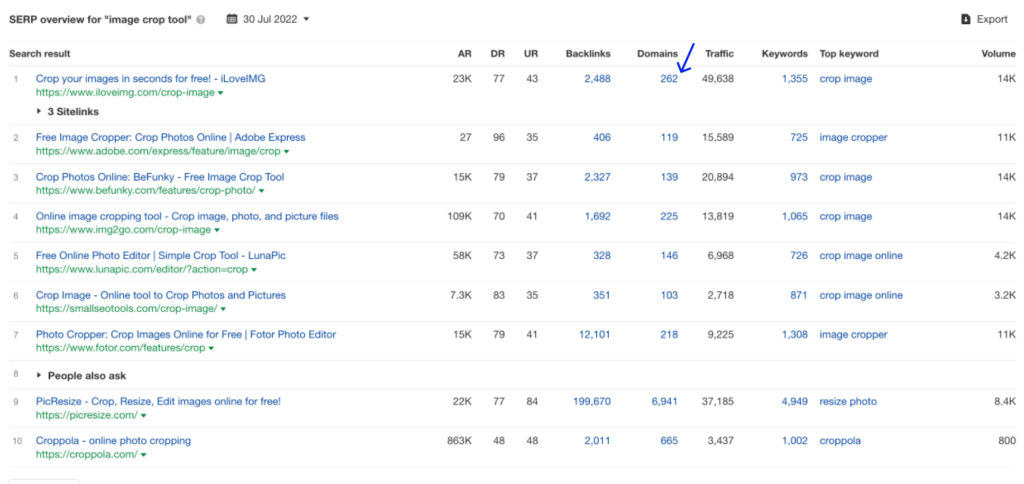 After pressing the "Domains" column, as shown in the previous screenshot, you get on the following page.
In this particular example, there are 249 referring domains, but not all of these are authority sites. So you need to filter out low-quality sites.


To do this, filter to show dofollow links only, set the DR to 20+ and domain traffic to a minimum of 500.


The number of referring domains left will give you an idea of how many backlinks it needs to rank up your site. As shown on the screenshot, you roughly need ~34 quality backlinks.
Now do the same cycle on all the remaining competitors.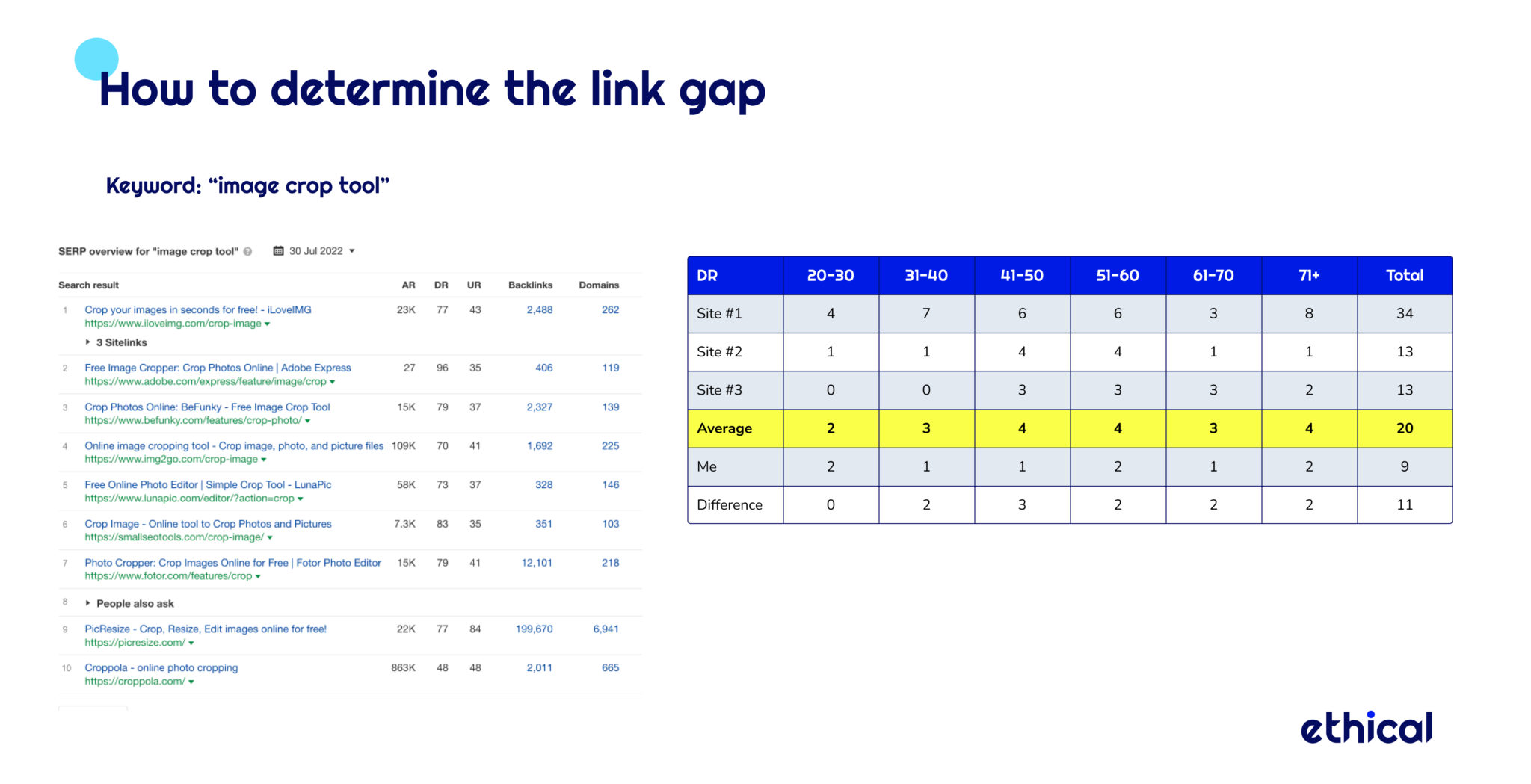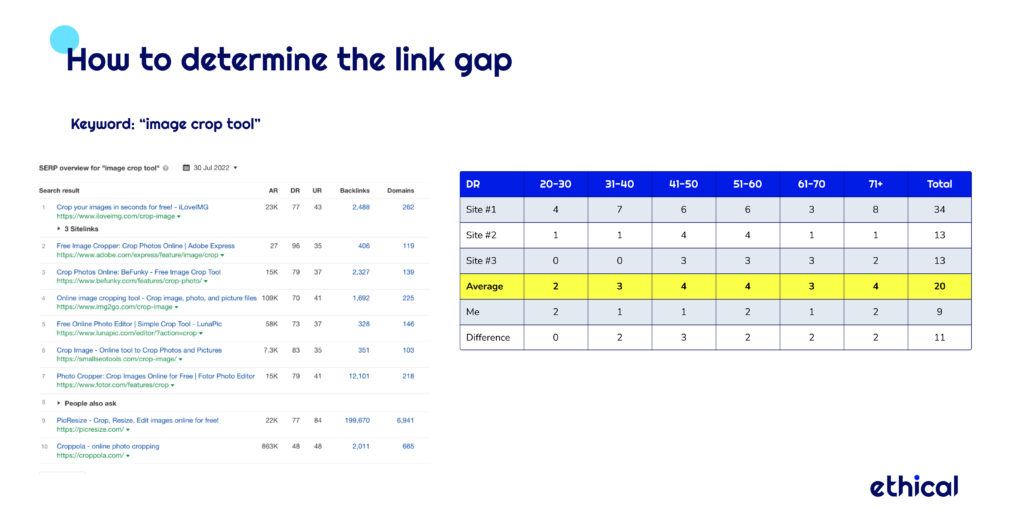 At the end of the analysis, you will end up with a similar table that will give you an understanding of what is your link gap.
Easiest and most effective SaaS backlinks strategies to use in 2022
Finally, after you figure out which pages you should build links to and how many links to build. It's time to build quality backlinks! We've listed some of the proven strategies we use in our link-building campaigns, which you can use too. These are easy compared to other link-building tactics.
1) Replicating competitors' backlinks (Reverse engineering)
As we mentioned above, one of the easiest ways to rank your page is to replicate the same backlinks powering up your competitor's page to rank in the top search results. A website that has helped rank your competitor will likely help your site rank as well.
There are three phases involved in replicating your competitors' links.
Phase 1: Identifying Your Competitors
To identify your top competitors, go to Ahrefs keyword explorer, use the target keyword and check the top 10 competitors. This process has been described in detail in the previous section.
Phase 2: Gathering and Identifying backlinks
Once you have the list of your competitors and their page URL, the next step is to find out what sites are linking to them. To do this, go to ahrefs site explorer, input your competitor URL, and gather all their backlinks into one spreadsheet or excel sheet.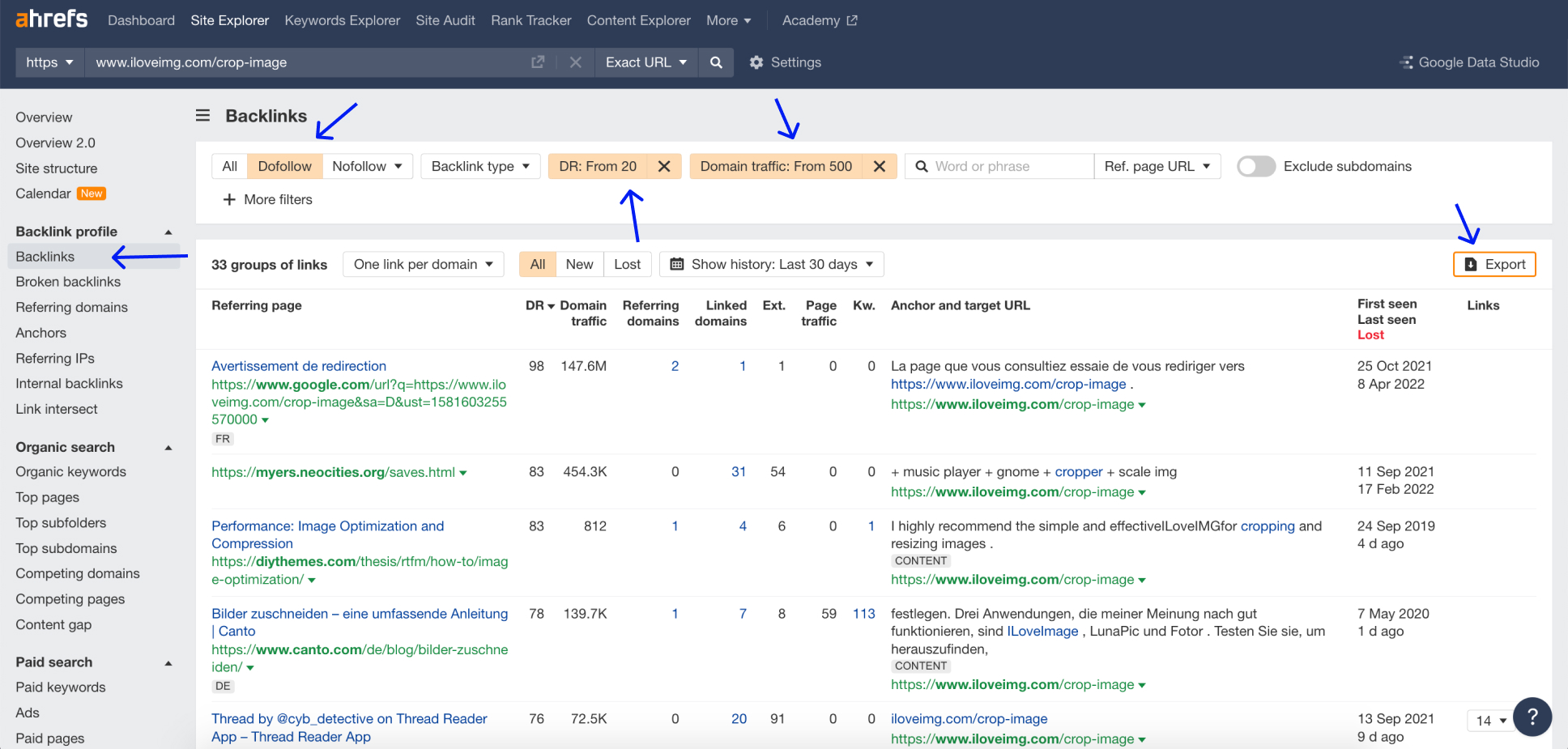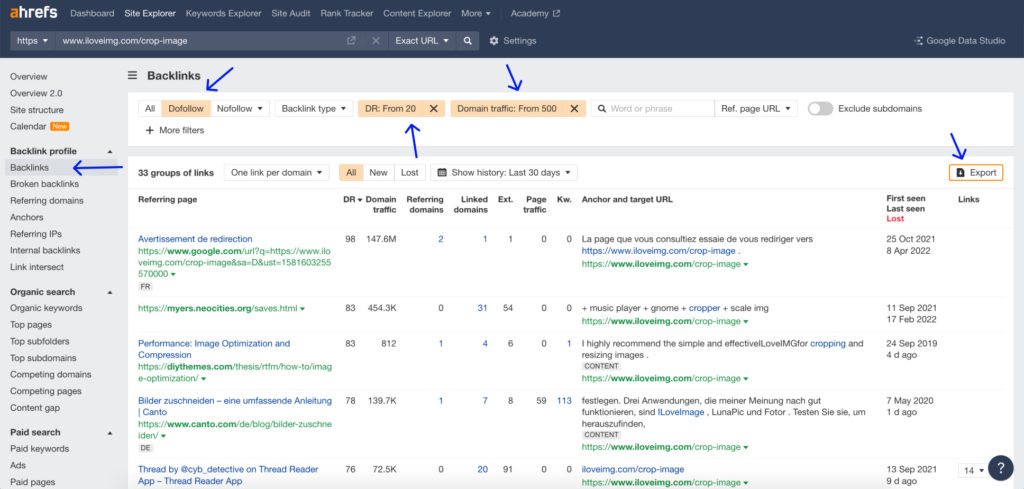 Create a new column on the spreadsheet to identify the types of links. Some of the most common links that SEO people build in SaaS businesses are: 
Guest post  

Resource page

List-post

Forum links

Blog comments
Editorial in-content links provide more value than user-generated links. We strongly suggest focusing on these types of links. That means ignoring forum and blog comment types of links, which is honestly an OLD and NOT effective way of building links. 
When the spreadsheet is ready, your list will look similar to this:


The reason why we want to distinguish the type of links is that it will base the outreach strategy.
Phase 3: Reaching out to the websites 
Once you have the list of prospects identified, it's time to reach out to them.
If it was a guest post, pitch them a topic. 

If it was a resource page, send them a helpful resource from your site. 

Ask them to include your website from their list if it was a list post.
2) Unlinked Brand Mention
This strategy works best for well-known brands as they get mentioned quite often. The idea is to find websites that mention your brand name but do not link to your site. There are two types of branded keywords you can target.
Your brand name (Apple, Google, Canva, Hubspot)
Your Name (Steve Jobs, Larry Page, Melanie Perkins, Brian Halligan)
To find sites that have not linked to you, go to ahrefs content explorer and type in 
"your brand name" -site:brandomain.com
 for example "Hubspot" -site:hubspot.com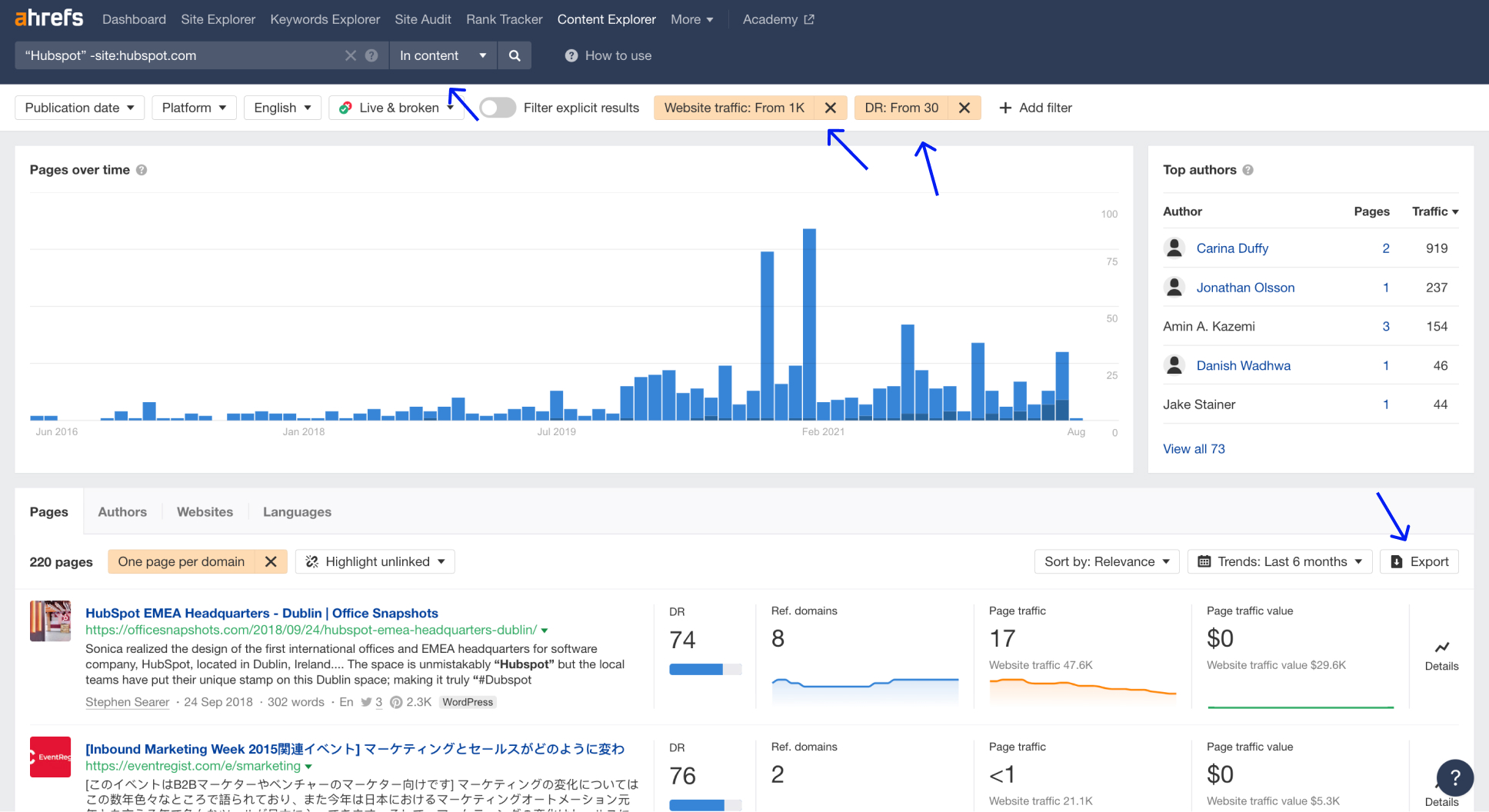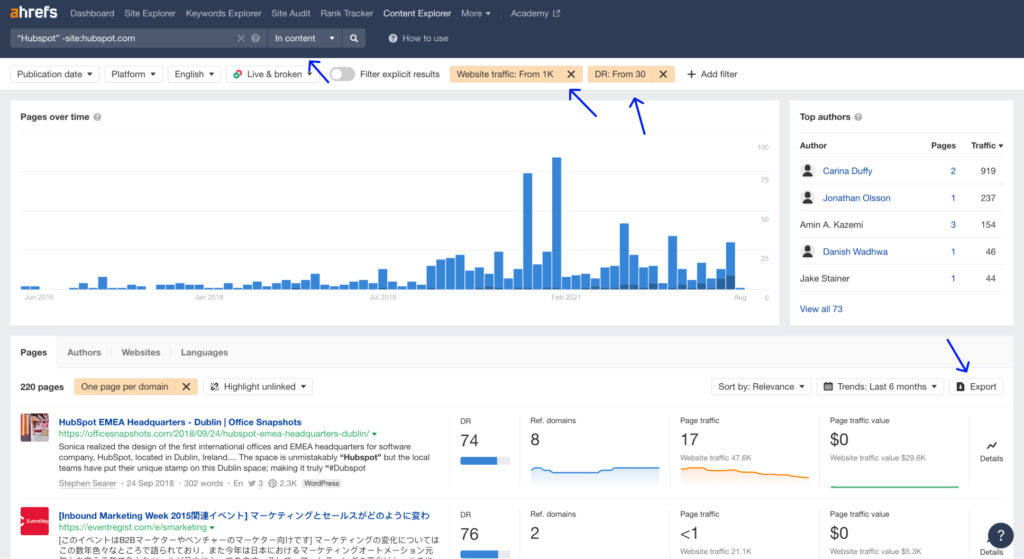 Set your search parameters to show "in content" only and to filter out low-quality sites. Set the language to English, Live only, DR to 30, and website traffic to 1000.
Export the list and manually check each listed prospect.
Now ask yourself, does it make sense to add your link on the page? If not, delete it.
If yes, then reach out to them.
Unlinked mentions outreach template
Hi [first name],
Ralf here from [company name].
I read your blog post this morning about [blogpost title] and noticed that you have mentioned our brand [brand name] in this section of your blog post
[insert section]
I was wondering if it's possible to add an active link to our brand name?
I think this will help your readers navigate the web more easily.
Happy to share your article to our social channels in return. 
Cheers,
Ralf
A resource page usually lists a group of helpful links related to a certain topic.
The intention behind these pages is to provide readers with additional information about the topic.
Reaching out to these pages is a good way of earning quality backlinks. There are a few ways to find resource pages.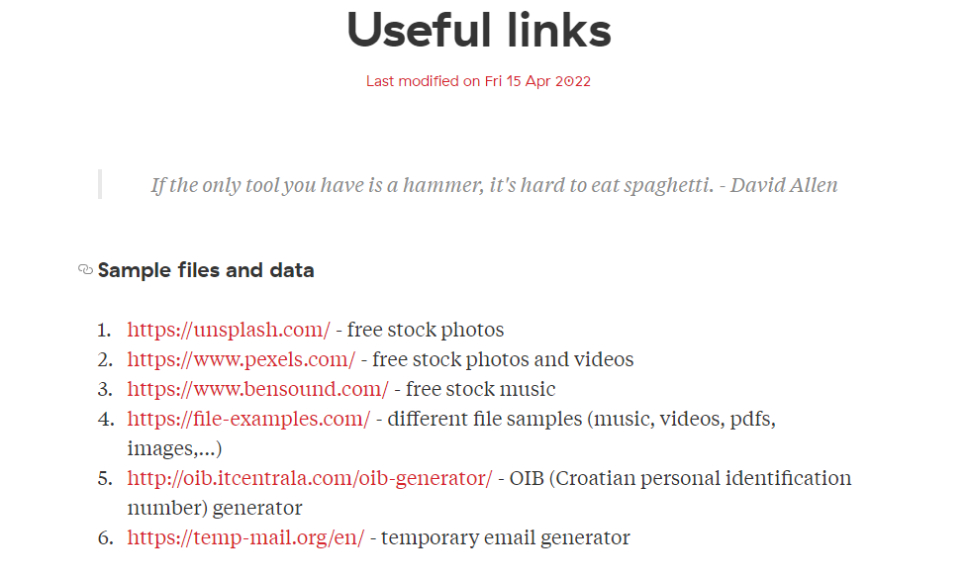 How to find resource page opportunities?
Using Google search advance operator use the common footprint to find resource pages.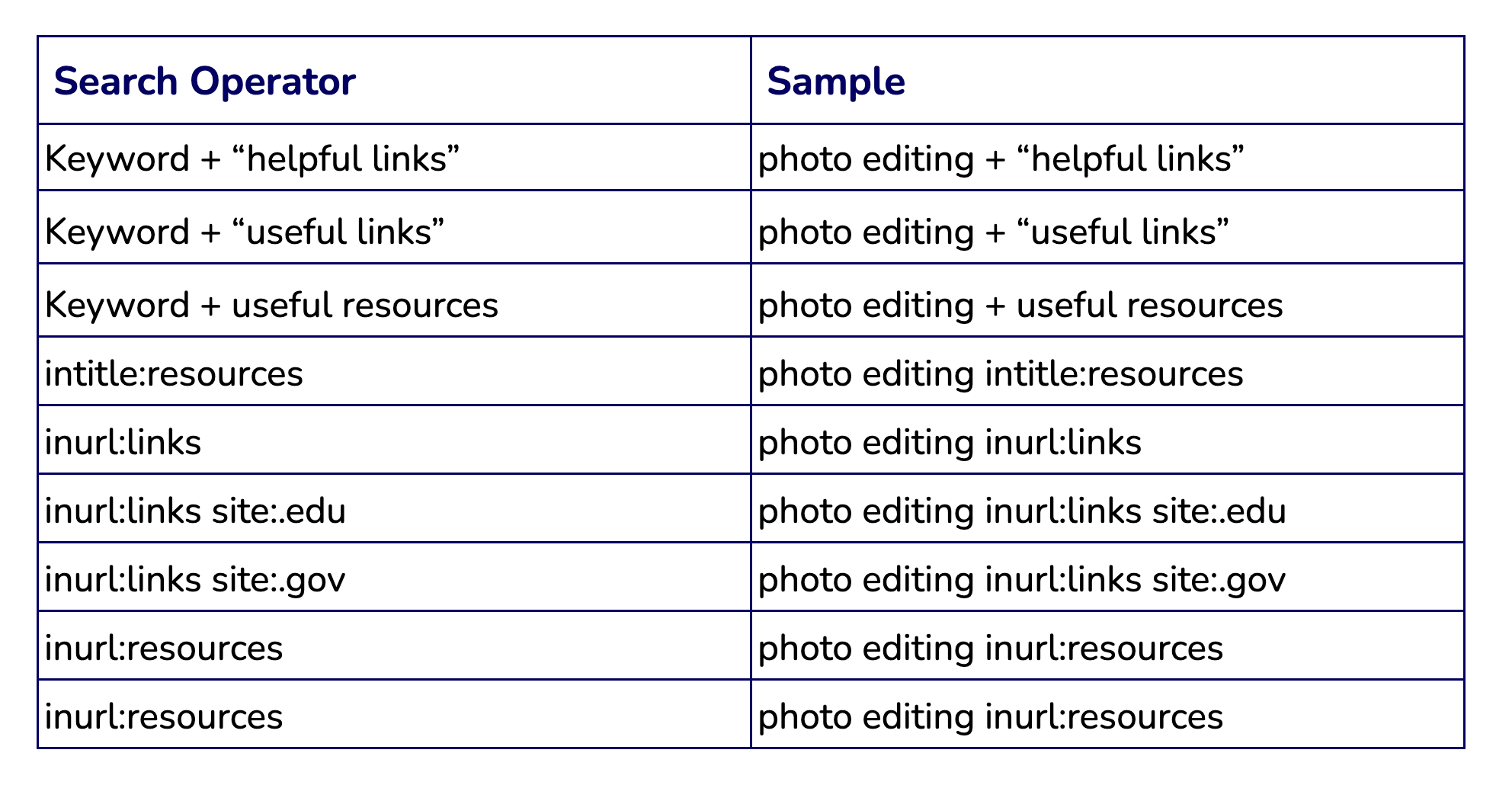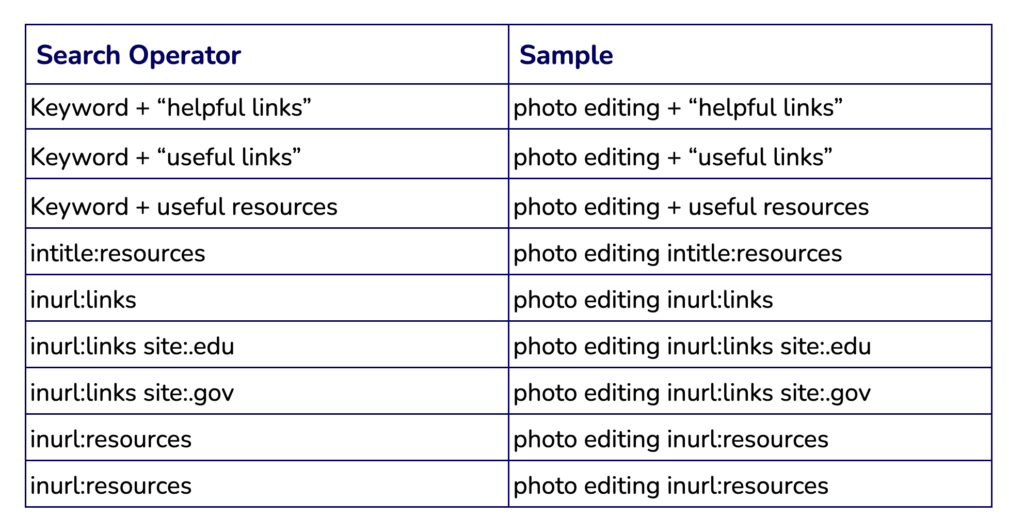 Tip: Play around with different footprint variations to get more results.
Compile the list of results and save it on a Google Sheet. Once you have the list of qualified resource pages, you can start reaching out to webmasters.
Sample resource outreach template
Hi [first name],
I hope you're having a wonderful day! 
I recently came across your list of helpful links related to [topic].
Are you open to suggestions?
I would like to suggest the following links be added to your page.
[your tool] – tool description 

[your tool] – tool description
I think this will help your readers navigate the web more easily.
Thank you,
Ralf
One of the most effective ways to improve brand recognition is to have your product listed in "List posts" articles. List posts are similar to resource pages only that these pages are usually blog posts and contain a full review of a certain tool recommendation.
For example:  
"Top video editing tools"
"Best video editing tools"
"Free video editing tools"
The idea is simple: ask these publishers to add your product to these lists.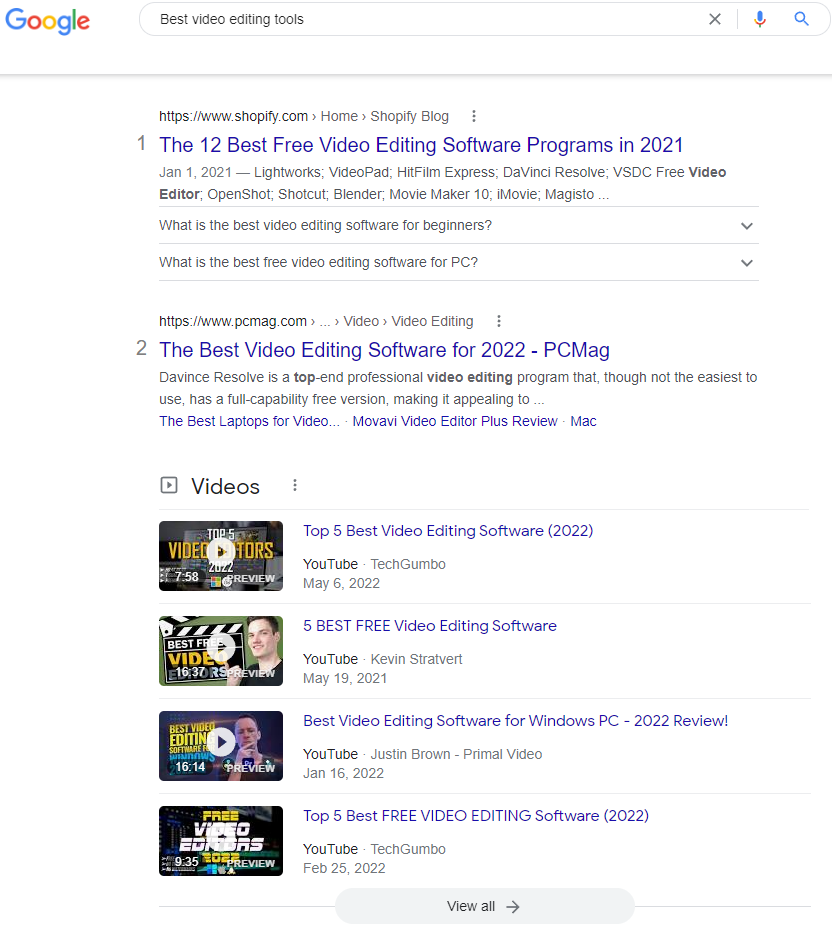 Sample outreach template for list post
Hey [First name],
Ralf here from [Site name].
I recently came across your resources list for [Topic] here: [target url]
Would you consider adding [Your tool] as a *bonus* entry at the bottom of your list? It's a great compliment to the other tools that you've included. I'd be happy to put together some non-salesy copy for you to include as a description.
Also happy to give you free access to our tool so you can test it out and if you want I could also sign you up to our affiliate program. 🙂

Let me know if this is possible.
Best,
Ralf
Pro tip: To increase your chances of getting listed, offer them something in return; it could be in the form of free subscriptions for a couple of months, newsletter promotion, social media promotion, affiliate and other good stuff you can offer. Always remember to give back as a sign of good gesture.
There's been a long debate about whether guest post is dead. In 2014, Google's former Search Advocate, Matt Cutts said "Stick A Fork In It, Guest Blogging Is Done" This statement is made to counter the increasing number of guest post spam. 
But is this true, or is this just another way for Google to scare SEO practitioners? 
Well, there is a really simple logic answer to this question. If guest posting is really dead, then why are most of the big publications sites like INC, Entrepreneur, and Forbes are still alive and well ranking? These sites are made up of guest contributors (freelancers, industry experts, marketers, etc.)
The point here is that guest post is dead when they're not done right! 
There are three main processes involved in guest posting.
Link prospecting & link vetting
Contact hunting
Pitching
This process aims to find website opportunities that you can use to ask for a link.  In other words, you will browse through many pages and see if you can add a link in them.
To be clear, the goal isn't to find many websites; the goal is to find the right ones to target.
To speed up the process, you can use ahrefs content explorer and filter it based on the quality metrics we discussed above (Topic relevance, website authority, website traffic) export the list, delete unwanted sites and store it for later use.
Once you have the list of cleaned prospects, the next thing you should do is to find the correct email address to reach out to. This step is crucial as you don't want your emails to end up in spam folders.
Ideally, you want to reach out to people that have access to your target websites or are often known as "GateKeepers". These people are usually the editor, publisher, content manager, and growth manager.
Tools like Hunter.io, Snov.io and Name2email Chrome plugin can help you find the correct contact email.
Pro tip: Valid emails usually have profile pictures on it. 
Now that you have the list of qualified prospects and the right email address, it's time to reach out to them. 
The basic general rules when pitching a guest post are: 
 Personalize your messages – make a genuine comment on their article, If it is a holiday — wish them a happy holiday etc. 
 Pitch a relevant topic – brainstorm topics that are related to their industry, and explain why it's a good topic for their site. 
 Be polite – Make sure to thank them for their reply and for their time. 
Here's a good example of a guest post template 
Hi [NAME],
My name is [PERSONA NAME] and I've just been reading this > [INSERT THE TITLE OF A
RECENT POST THE TARGET WEBSITE HAS RECENTLY PUBLISHED] and I think you raise
some [INTERESTING/USEFUL/HELPFUL POINTS – include a genuine comment].
I wanted to drop you an email as I would really like to put together a guest post for you. You can see a couple of examples of my work here:
[INCLUDE 1 – 2 links of previous posts written]
I have a few ideas for articles that I feel would be a good fit for [TARGET WEBSITE] and would
be able to write as a guest post:
[IDEA 1] – [EXPLANATION 1]
[IDEA 2] – [EXPLANATION 2]
What do you think of these?
I guarantee you that the piece itself will not be self-promotional in any way, my focus will
be on crafting a blog post that your audience is going to find valuable and enjoyable to read.
I look forward to hearing back from you soon.
All the best,
[PERSONA NAME]
This tactic is very straightforward. Find sites that review products and offer them and affiliate commissions.
These sites that review products make a living through affiliate commissions and are actively looking for good products to review.

You can find these sites by doing a quick Google search.

"Your competitor" + review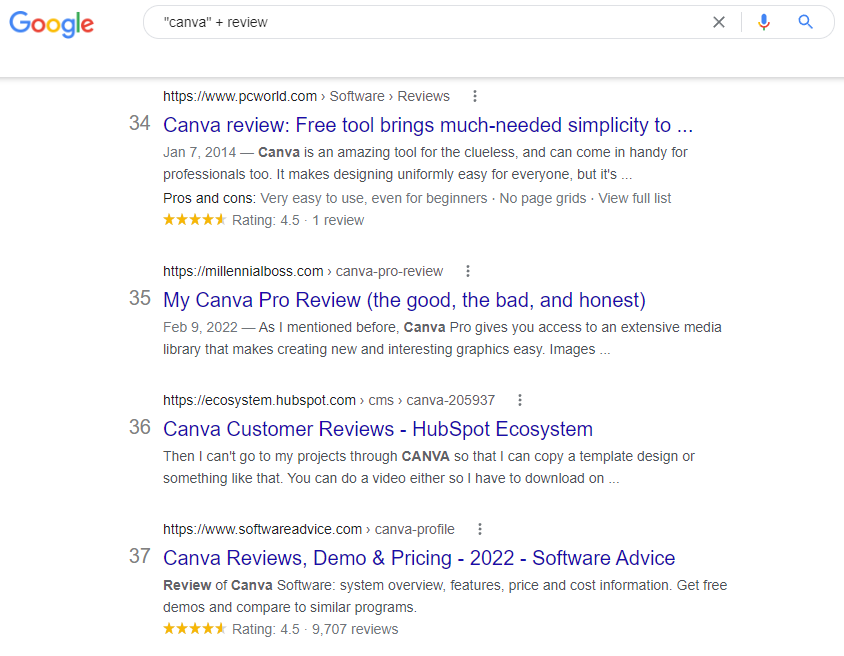 As the old saying goes, "No man is an island" just like you, many SaaS marketers are also actively building links to boost their site rankings. So instead of doing this alone, why not team up with them? I mean, seriously, this will make your life much easier. One of the apparent benefits of a partnership is that you can expand your network and link opportunities without spending a dime.
Direct link exchange – A 1:1 exchange between you and your partner. (Not a good option)

Guest post exchange – Wherein both parties insert their links from one of their upcoming guest posts. 

Three-way link partnership – An exchange between 3 parties involved. Site A links to > Site B> links to > Site C > links to > Site A
But… Where do I find link partners?
There are active community groups you can join to find link partners. Here are some of those:

Facebook groups –  B2B bloggers boost

Slack Groups: Backlinks

Direct email – Find people on LinkedIn who work in the SEO outreach department and directly reach out to them.

Keep your emails direct and concise as possible. These people will know what you're up to, so there's no need to craft long emails instead try to be very specific on your offer, like what site you are offering and what you want in-return.
Pro tip: When doing link partnerships, be active in responding to messages and always return the favor you've asked for. Else, you will be kicked from the group 😉
Now, most of the marketers out there fail because they don't implement what they read. Don't be one of them! Seriously, go and play around with the strategies we mentioned above, and trust me, if you do good on this, you'll wake up the next morning seeing your website rank number one on Google. I mean, we did the same strategy on this site.

So if you like our approach and are interested in building ethical backlinks, just fill the form below. 
Send us a request naming your competitors and
get a free Gap Analysis